The exhibition
Galerie Hugues Charbonneau presents a solo exhibition of works by Montreal artist David Lafrance. Observational drawings from the Montérégie region are shown alongside paintings created subsequently in his studio. These cognitive representations of the countryside stem from deep introspection, and evoke the memory of place and the current dynamics that inhabit it.
The large canvases on display often suggest landscapes, and benefit from the artist's vast visual repertoire, simultaneously encompassing folk art imagery, pastoral scenes created through the subtle layering of glazes, maps sketched in freehand, and expressive impasto techniques.
Among the depicted scenes, symbols from popular culture become cultural clues in themselves. Folk art objects or modern relics inscribed within these turbulent landscapes offer a glimpse into our industrialized society's relationship with nature. Indeed, the troubling yet seductive environments created by the artist through the amalgamation of anachronistic objects become cathartic tools to express life's paradoxical impulses. These dichotomies, where symbolically charged objects cohabit in natural, yet unidentifiable spaces, trigger a narrative discourse that foregrounds the complex relationship modern humans have with their environment. Nature and civilisation meet in Lafrance's creative work, allowing us to revisit our preconceived notions of reality.
Artist's statement
Painter, sculptor and sound installation artist, Lafrance creates unique works where an exalted natural world unfolds and merges with elements of human life. Through the creation of Edenic landscapes, Lafrance explores his own psyche and awakens his sensitive spirit to test the limits of expressionism. Within the artist's practice, where basic subjectivity is laid bare, expressiveness is used to explore human cognitive reflexes and reveal specific points of view. By doing so, the artist uses art's expressivity to confer critical value upon it. Indeed, Lafrance's enigmatic work generally revolves around dissenting themes such as escapist pursuits, industrialization, nature, or individual and collective identity.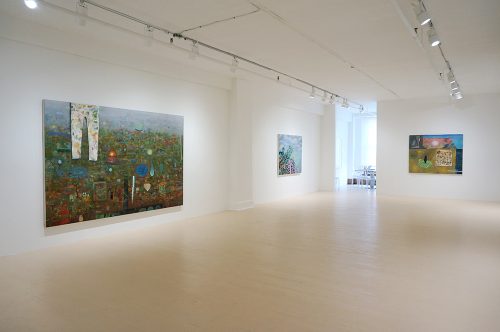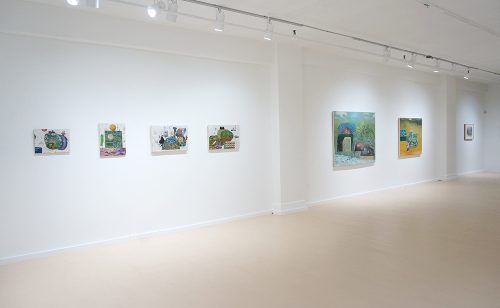 July 7th, 2014 § 0 comments § permalink
Benoit Aquin: Mégantic
A Prix Pictet Retrospective, Les Rencontres d'Arles
At the Magasin Électrique, parc des Ateliers, Arles, France
From July 7 to September 21, 2014
Winner of the prestigious Prix Pictet in 2008 for his series The Chinese "Dust Bowl", Montréal photographer Benoit Aquin has travelled the world for over 25 years, creating poignant images that bear witness to humanity's often contentious relationship to the land.
The thirteen works from the Mégantic series, presented at Les Rencontres d'Arles as part of a Prix Pictet retrospective exhibition, reveal a wounded small town in eastern Québec devastated by the derailment and explosion of a freight train carrying crude oil in July 2013. Benoit Aquin surveyed the charred core of Lac-Mégantic in the months following the tragedy to take stock of the area's destruction, but also of the life that tries to rebuild itself there.
He throws a harsh light on this environmental disaster, now emblematic of the neglectful management of Canada's territories. At a time when oil industry lobbyists increase efforts to transform Québec into a new hub of trade in black gold, Benoit Aquin uncovers the human and environmental impact of political and economic ambitions in the frantic extraction of hydrocarbons, which in spite of recent events, is currently happening on a global scale. His work accompanies and supports citizen engagement that seeks to preserve the primacy of collective interests over corporatist ones from offending industries, and their accomplices among the political class.
The entire Mégantic series will be reproduced in a catalogue published in the fall of 2014 by VU, centre de diffusion et de production de la photographie, in Québec.