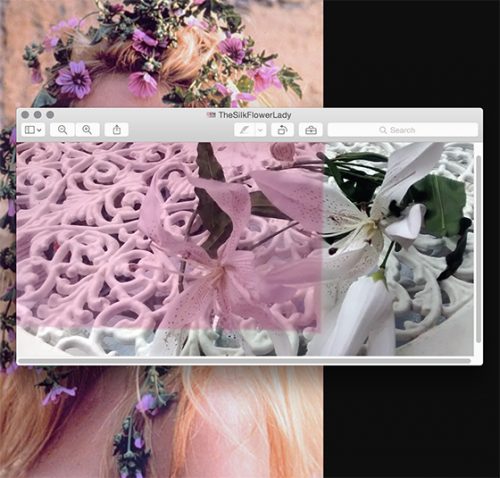 As part of our summer program "8 artists: 8 situations", Galerie Hugues Charbonneau is delighted to grant carte blanche to the performance artist Nadège Grebmeier Forget. For a period of 24 hours only, the artist will occupy our gallery space to produce a series of interventions, images and exclusive videos for our Instagram account. From midnight July 28th to midnight July 29th 2017, follow this intensive thread via the hashtag
Artist Statement:
Nadège Grebmeier Forget's art practice provokes reflection on the act of looking as a form of implicit consumption, as well as the power dynamics within which the gaze operates. Her work is characterized by a preoccupation with re-appropriation, actively exploring the role of mediation on identity performance, construction and fiction on display. Circulating within the visual and live arts communities, she has participated in numerous events, festivals, panels, residencies and exhibitions in Canada, the USA and Europe. Vulnerable, intimate, baroque and decadent, she serves discomfort.
www.nadege-grebmeier-forget.com
July 18th, 2017 § 0 comments § permalink
Public artwork KA-POW! on view at Victoria Square
As part of the Montreal 375th anniversary donation project "Promenade Fleuve-Montagne" #PromenadeFM.
KA-POW!
The word KA-POW! speaks the language of action, force, movement, breath and sound. KA-POW! is comprised of two seated bench areas fixed amongst a grove of trees at Victoria Square park. Referencing lightening bolts, geometric star blanket patterns and cartoon action text bubbles the benches are a radical act of unity to bring more integration between public spaces and the more than human natural world. The geometric forms are anchored in many levels of meaning at ground level, supporting the public under a canopy of leaves. For this site specific commission Brooklyn based performance artist Maria Hupfield centers trees as dynamic living forces in an effort to bring people together with our relations a busy intersection. KA-POW! is part of le Sentier de résilience curated by Cheryl Sim in collaboration with Phi Centre and DHC/ART. It is located at the heart of la Promenade Fleuve-Montagne.
Maria Hupfield
Hupfield activates her creations in live performance. She is interested in shared moments that open spaces for possibility and new narratives. She is deeply invested in intersectionality, indigenous feminisms, race, gender, and class. Hupfield is a member of the Anishinaabe Nation at Wasauksing First Nation, Ontario. Her recent traveling solo exhibition, The One Who Keeps On Giving, opened the thirtieth anniversary of the Power Plant Contemporary Art Gallery, Toronto. Hupfield is an alumna of the AIM program at the Bronx Museum and a Joan Mitchell Foundation recipient. Exhibitions include shows at the SITE Santa Fe Biennial, James Gallery, the BRIC Biennial, the Bronx Museum, Vox Populi, and Panoply Performance Laboratory. Hupfield was also a part of the group exhibition Beat Nation. Art, Hip Hop and Aboriginal Culture (2012-2014) presented at the Vancouver Art Gallery, Power Plant Contemporary Art Gallery and the Musée d'art contemporain de Montréal.
July 7th, 2017 § 0 comments § permalink
Launch of the book Le Renard Vulve / Satan Narval 
Wednesday, July 12 from 5 PM to 7 PM at the bar Le Cheval blanc
809 Ontario est, Montreal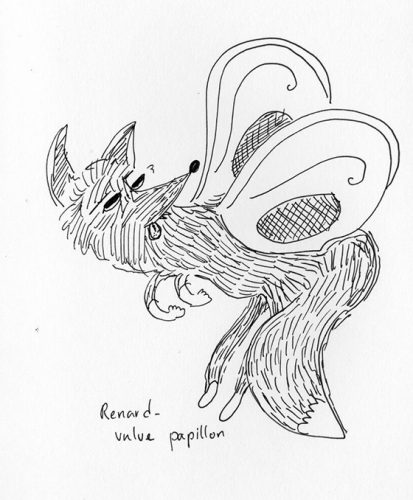 The artist-poet Cynthia Girard-Renard is delighted to announce the launch of her new book titled Le Renard Vulve. Written under the pseudonym Satan Narval, Cynthia Girard-Renard invites you to a feast in which animals are key actors in an erotico-poetic novel that takes place on Mont-Royal.
In this story based on mourning many loses, the narrator and her dog go off in search of the loved one on the Mountain, the birthplace of the plot. On her way, she meets a lesbian BDSM skunk couple, a stripper bat, a pileated woodpecker, a racoon barmaid and many other characters.
Through a series of interspecies sexual adventures and friendships, the narrator, like Alice in Wake-Land, wants you to come along on this delirious trip, reminiscent of a Journey to the End of the Mountain, from which you will not return unscathed. This story will forever change your view of Mont-Royal…
About Cynthia Girard-Renard
Satan Narval alias Cynthia Girard-Renard is a visual artist and poet. Her publications include J'ai percé un trou dans ma tête, Héliotrope, 2010, Le Soleil et l'électron, Tryptique, 2005, La Fureur des wapitis, Lanctôt éditeur, 2000, and Nous lirons du bout des yeux, Écrits des forges 1996. Her latest group exhibition, Les Fleurs animales, was held at l'Écart in Rouyn-Noranda in May 2017. Her upcoming projects include La Main invisible at McClure gallery, Westmount, September 2017 and Les Aventures du Renard Vulve at Galerie Hugues Charbonneau in November 2017. Not to mention her solo exhibition, Fictions sylvestres, at the Musée d'art contemporain de Montréal (2005), Tous les oiseaux sont ici, Kunstlerhaus Bethanien, Berlin (2009), Unicorns and Dictators, Esker Fondation, Calgary (2014) and her upcoming participation in the 2017 Canadian Biennial presented at the National Gallery of Canada.
Summary
Satan Narval, Le Renard Vulve, written and illustrated by Cynthia Girard-Renard, Montreal, 196 p.
Graphic Design: Francine Savard
Book printing: Anteism and BookArt
Price : 25$
The book will be available for online orders: http://anteism.com/shop/renardvulve
As well as at Galerie Hugues Charbonneau, librairie l'Écume des jours and at the bookstore of Galerie Clark, Montréal.
July 7th, 2017 § 0 comments § permalink
Les 5 et 6 juillet 2017, l'artiste Guillaume Adjutor Provost prendra le contrôle du compte Instagram de la Galerie Hugues Charbonneau où il présentera une série d'images en lien avec sa pratique artistique. Cette intervention d'une durée de 48 heures à lieu dans le cadre de notre programmation estivale « 8 artistes : 8 situations ». Toutes les publications d'Adjutor Provost seront visibles à l'aide du hashtag :
#guillaumeadjutorprovosttakeover
Au sujet de Guillaume Adjutor Provost  
À travers un certain indéterminisme des formes, la production de Guillaume Adjutor Provost sonde les manifestations de l'inconscient, la notion d'usage et la construction d'idéaux. Plus spécifiquement, il est question de la périphérie de ce qui fait histoire: la contre-culture, les archives personnelles, le vernaculaire, la science-fiction et les approches psychanalytiques.
Guillaume Adjutor Provost (n. 1987) vit et travaille à Montréal où il a complété un doctorat en étude et pratique des arts à l'UQAM en 2016. Ses recherches portent sur la notion d'art commissarial, à savoir l'utilisation d'approches commissariales comme mode de création. Le travail de Guillaume Adjutor Provost a été diffusé lors d'expositions solos et collectives au Canada, en France, en Allemagne, en Autriche, en Belgique et en Suisse. Parallèlement, sa pratique a été soulignée par l'attribution de la bourse Jean-Claude Rochefort et du prix Claudine et Stephen Bronfman en art contemporain.