As part of MOMENTA | Biennale de l'image
Group exhibition by the artists Maria Hupfield, Chloë Lum and Yannick Desranleau
Opening reception: September 9, from 3 PM to 5 PM, artists in attendance
At Galerie Hugues Charbonneau
On the occasion of MOMENTA | Biennale de l'image, the new designation of Mois de la Photo à Montréal, Galerie Hugues Charbonneau is delighted to present the group exhibition Performance via la camera / Performance via the camera. Ami Barak, the guest curator for the 2017 biennale edition, has chosen to explore the status of the still or moving image by way of the question: What does the image stand for? According to him, the ubiquity of new media in everyday life contributes to blur the notion of photography as a witness of the real since it is now being fantasized more than ever by its author.
As a satellite MOMENTA exhibition venue, it seemed quite a propos to present the works/banners by Maria Hupfield and the duo Chloë Lum and Yannick Desranleau, because they explore questions pertaining to the processing of the contemporary image in a singular manner. More specifically, the banners resulting from their performances do not translate a documentary type photography, but rather an aesthetics developed in a premeditated day via the camera. In this case, the visual language is foregrounded both through the retouching of photos and the display of elements that trigger thought.
It is in this sense that Hupfield digitally reconstructs a mirror effect within the image in which Waaschign and Portal are played out. The goal of this optical function is to highlight the idea of an intergenerational tribute inherent in the artist's works. I really / I want / Time for / A lie, produced by Lum and Desranleau during a stay in Qatar, strategically stages portraits and manuscripts so as to bring about an effect of presence and absence recounting the essential concepts pertaining to the local pictorial traditions.
The works by Hupfield, Lum and Desranleau suggest orchestrated images that recall, in some regards, the constructed character of a commonplace publicity banner. Designed to resist changing weather conditions and to be visible from afar, the banner however relinquishes some of its original functions within an exhibition context. Those that are presented in the gallery literally overload the space and set off an immersive effect in this site.
August 29th, 2017 § 0 comments § permalink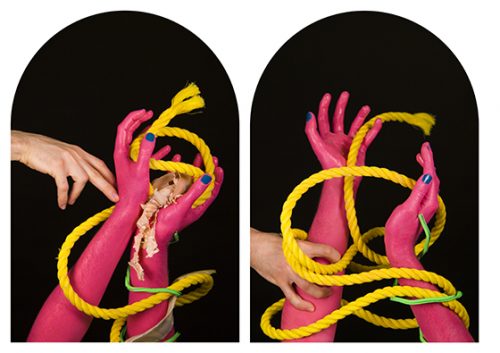 Unveiling of the public installation Laocoön at Théâtre du Nouveau Monde
Presented from August 30 to October 15, 2017
As part of KM3, an itinerary of public art works exhibited throughout the Quartier des Spectacle #km3qds.
LAOCOÖN
Titled Laocoön, a photographic installation by Chloë Lum and Yannick Desranleau evokes the myth of the Trojan priest Laocoön who was put to death by snakes after having warned his people against the Trojan Horse, a bait sent by the Greeks under the guise of an offering by the Greek army. Ordered by the gods Athena and Poseidon, Laocoön's agony opened the way for the entrance of the wooden horse within the walls of the Trojan city and, by the same token, its invasion.
Interwoven with the architectural details of Théâtre du Nouveau Monde, the work of the duo revisits this passage from Virgil's Aeneid. The tale of Laocoön is here read through a logical sequence of images that reveal both white and pink hands, and a yellow rope. Like the protagonists of this myth, these symbols of the body and the snake come to life by way of large-scale photographs presented on the façade of rue St-Urbain. Lum and Desranleau's Laocoön is a also a call to resistance for modern day whistleblowers who are still being persecuted by the authorities whose abuses they denounce.
About Chloë Lum & Yannick Desranleau
Chloë Lum and Yannick Desranleau have participated in many group exhibitions throughout Canada, the United-States, and in Europe, including the University of Texas, Austin (2015); the Center for Books and Paper Arts, Columbia College, Chicago (2015); the Musée d'art contemporain de Montréal (2011); the Kunsthalle Wien, Vienna (2010); the BALTIC Centre for Contemporary Art, Gateshead, England (2009); and at Whitechapel Project Space, London (2007). Their recent solo exhibitions include Circa Art Actuel, Montreal (2017); Khiele Gallery, St. Cloud State University, Minnesota (2016); the Confederation Centre Art Gallery, Charlottetown (2014); YYZ Artists' Outlet, Toronto (2013); and Blackwood Gallery, University of Toronto (2012). Their performances have been presented at the Darling Foundry (2015), and as part of the OFFTA festival (2016). Lum and Desranleau are also known on the international music scene as co-founders of the avant-rock group AIDS Wolf, for whom they also produced award-winning concert posters under the name Séripop.
In 2016, Desranleau was awarded the Claudine and Stephen Bronfman Fellowship in Contemporary Art, and in 2015, the duo was long-listed for the Sobey Art Award. Their work is included in many collections, namely the Victoria and Albert Museum in London; the University of Maryland Art Gallery; the Montreal Museum of Fine Arts; and the BMO collection.
Yannick Desranleau holds an MFA in sculpture from Concordia University in Montreal, and Chloë Lum is an MFA candidate at York University, Toronto. Lum & Desranleau are represented by Galerie Hugues Charbonneau in Montreal, and they currently split their time between Montreal and Toronto.
lum-desranleau.com
August 16th, 2017 § 0 comments § permalink
Entrance door: 6217 rue Henri-Julien
David Lafrance is delighted to invite you to his studio in the ghost wing of 305 rue de Bellechasse on next Wednesday August 23, from 10 AM to 10 PM. As part of our summer program titled "8 situations: 8 artists", this exceptional rendezvous will be an opportunity to revisit his artistic production and archives covering the last twenty years (1997-2017).
An installation of works will pay tribute to his favourite workspace. Several paintings, drawings, engravings, aquarelles, sketches, studies and some never-before-seen works will be available for acquisition purposes. This meeting will also be an occasion for open discussions with key art milieu professionals in attendance (artists, photographers, gallerists). A not to be missed event that will unfold in a convivial ambiance, in the image of David Lafrance.
About David Lafrance
David Lafrance (b. 1976) holds a Bachelor of Fine Arts from Concordia University in Montréal (2001). His work has been presented in numerous exhibitions and biennales in Canada, the US, and in France. Among his recent solo exhibitions are Ceaac (2015), Strasbourg; Galerie Hugues Charbonneau (2014); L'Œil de Poisson (2014), Québec City; and the Musée régional de Rimouski (2012), which won the prize for "Best exhibition outside of Montréal" at the AGAC's Gala des arts visuels. He recently participated in various group exhibitions, namely at the Musée des beaux-arts de Montréal (2015), l'Œil de Poisson (2015), Art Action Actuel, in Saint-Jean-sur-Richelieu (2013), and at the Centre d'art l'Écart, in Rouyn-Noranda (2013).
His work is part of several private and public collections, including the Musée national des beaux-arts du Québec (CPOA), the Bibliothèque nationale du Québec; the Leonard and Bina Ellen Art Gallery, Montréal; Lotto Québec; Hydro-Québec; and Movement Desjardins; Blakes; and Apollo Studios.
August 9th, 2017 § 0 comments § permalink
Opening reception on August 16th from 5pm to 7pm with the artist in attendance
At Galerie Hugues Charbonneau
With the kind collaboration Art45 gallery
By modifying algorithms and training scenarios, what will the network synthesize?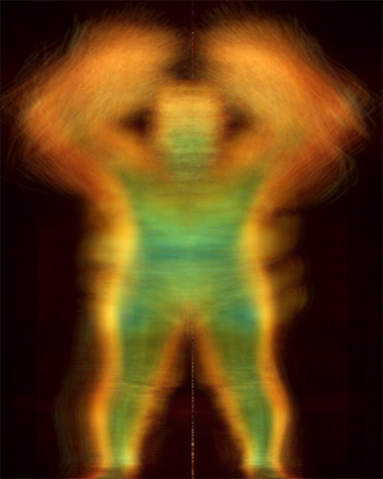 Using a state-of-the-art technique – a generative adversarial network (itself an interesting turn of phrase), a neural network has been trained to generate full body portraits that are learned from TSA three dimensional scans. The mongrel images created are not of specific persons but are 'hallucinated' by the network, through which the 'learning' process is revealed. The training dataset is from the very same scans made every time a person enters an airport terminal in the United States and several other countries. These images were released by the TSA to the public in the hope that they can develop an algorithm to automatically detect 'threats'.  On display here is the system as it learns to create images in an awkward loop of a machine being taught to imitate the images that are gathered from the biometric data.
Matthew Biederman
About Matthew Biederman
Matthew Biederman (b. 1972, Chicago Heights, IL, USA) lives and works in Montreal. He was the recipient of the Bay Area Artist Award in Video by New Langton Arts in 1999, First Place in the Visual Arts category of Slovenia's Break21 festival. He has since co-founded the Arctic Perspective Initiative, with Marko Peljhan, in 2007, a non-profit, international group of individuals and organizations, whose goal is to promote the creation of open authoring, communications and dissemination infrastructures for the circumpolar region.
Biederman works have been exhibited in the US, South America, Europe and Japan, in a variety of festivals and venues such as 7 ATA Festival Internacional (Lima), the 11th Lyon Bienniale, the 2011 Quebec Trienniale, 2014 Montreal Bienniale (Musee des Arts Contemporain), Bienniale of Digital Art (BIAN, Montreal), Artissima (Turin, IT) and Moscow Biennale, among others. As a film and video maker, his works have been included in the FILE festival (Sao Paulo), New Forms Festival (Vancouver), the Edinburgh Fringe Festival, Paris/Berlin International Meetings, and the Chicago Underground Film Festival. His public works have been shown at the ZeroOne2006 Festival (San Jose US), the SCAPE Biennial (New Zealand), notably.

Biederman is currently represented by Art45.