For his first exhibition at Galerie Hugues Charbonneau, Moridja Kitenge Banza is presenting  a painting from his series "Christ Pantocrator" which explores the complexity of his Congolese cultural identity through deeply rooted colonial symbols that he subjects to shifts in meaning. The artist describes this series in the following text.
A Christ Pantocrator is a Byzantine icon of Christ represented as almighty in his glorious body. This painting series borrows this representation as a starting point to question my relationship to masks from Africa found in Western art museums.
In most African cultures, masks are meant to be used in sacred rites and ceremonies celebrating birth, death or harvest. When dispalced as static objects in museums, they become amputated from their contexts of origin, simultaneously revealing aporias : the aritsts' identities are unknown and their provenance, undisclosed to the people and places they come from. Silent and detached from contemporary African life, these masks are nonetheless a material testament of the diversity and complexity of these societies. They are essential vehicules of customs and heritage for future generations of africans.
My reflexions are guided by a critical analysis of historical and cultural aspects of my country, the Democratic Republic of the Congo, as well as my own history, combining multiple layers of narratives and meanings. Catholicism plays an important role, passed on to my ancesters by Jesuit priests during the evangelization of the Congo, and carried through my ancestry, as well as my own family's experiences. My current outlook on these persistant symbols is energized by an intersecting creative intent, between memory and reappropriation.
To this end, I draw from various museum collections that possess African masks. I reproduce Pantocrator paintings, over which I paint the masks I have chosen, covering the face of Christ. Through this intervention, I return its glory to the sacred object and reactivate its function: that of being worn.
Biography
Canadian Congolese aritst Moridja Kitenge Banza was born in Kinshasa in 1980 in the Democratic Republic of the Congo. He holds degrees from l'Académie des beaux-arts de Kinshasa, from l'École supérieure des beaux-arts de Nantes Métropole and from the Humanities and Social Sciences faculty of l'Université de La Rochelle.  In 2010, he was awarded the first prize of the Biennale of Contemporary African Art, DAK'ART for his video Hymne à nousand his installation work De 1848 à nos jours. His work was part of exhibitions at the Musée Dauphinois (Grenoble, France), at the Museum of Contemporary Art (Rosklide, Danemark), at the Arndt Gallery and Ngbk (Berlin, Allemagne), at the Biennale Internationale de Casablanca (Casablanca, Maroc), at the Fondation Attijariwafa bank (Casablanca, Maroc), at the Fondation Blachère (Apt, France) as well as at the BAnQ, at galerie Joyce Yahouda, at Oboro and at the Musée des beaux-arts de Montréal (Montréal, Canada).
Artist Statement
As a multidisciplinary artist, I express myself through painting, photography, video, drawing and installation.
My process is situated at the intersection of reality and fiction. Through this lens, I question the history, memory and identity of the places where I live or have lived in relation to the place I occupy in these localities. I intentionally confuse fact and fiction to problematize hegemonic narratives and create spaces where marginalized discourse could flourish. Drawing from past and present situations, I organize, assemble and trace figures, as would a land surveyor, by reappropriating the codes of cultural, political, social and economic representations. In so doing, I build my own tools to better invest the "other's" territory in order to enrich all the fields of research that inspire my practice.
The gallery would like to extend its gratitude to Anne-Isabelle Pronkina for her contribution to the development of the exhibition's concept.
January 15th, 2019 § 0 comments § permalink
The Exhibition
For her third solo exhibition at the gallery, Julie Trudel presents a series of new tridimensional paintings, continuing her previous exploration of color in transparency. It was during a residency in Berlin in 2015 that she first discovered a model of fluorescent plexiglas of which the borders throw light. All while keeping the constraint she imposed on herself in 2012 to paint exclusively in black and white, it's through the support that she has reintroduced primary colours into her work.
The geometric compositions of the paintings blend matter to light to show color. Veils of translucent acrylic paint subtly change the shade of the panels and their level of transparency. Trudel attains this result by means of a rigorous artisanal method, discovered through experimental trials on plastic. The support is successively cut, polished, assembled, painted and thermoformed to create folds at precise angles. Through these interventions, Trudel is able to liberate the Plexiglas of its semiotic boundaries heavily associated with industrial plasticity, to bring it into the pictorial field. The result generates a visual complexity that reflects our era of omnipresent screens.
Artist Statement
As an abstract painter, Julie Trudel engages with the properties of paint through simple work processes that take shape through the self-imposed limitations she establishes at the start of each new project. She positions herself within the realm of reflective and conceptual painting that focuses on the making of the painting and investigates painting itself. Her research goes beyond the question of painting as coloured matter; it extends to painting as a practice and as a discipline. Her works give new currency to traditional issues of abstract painting through works that seek to renew its technical aspects – as much through its medium and its support as through its hanging. 
About Julie Trudel
She holds a BA, a BFA and an MFA from UQAM and has exhibited across Canada, Europe and the United States including recent solo exhibition at NARS Foundation, Brooklyn (2018), the group exhibition Entangled: Two Views on Contemporary Canadian Painting at the Vancouver Art Gallery (2017) and The Painting Project at Galerie de l'UQAM (2013). In addition to being awarded numerous research and creation grants as well as artist residencies across Canada and abroad, Trudel was a two-time finalist in the RBC Canadian Painting Competition (2011, 2012), and winner of the Joseph Plaskett Award in painting (2013). She is a Professor at UQAM in Montreal, where she lives and work.
The artist would like to warmly thank l'École des arts visuels et médiatiques and the Faculté des arts of UQAM, the Canada Council for the Arts and the Joseph Plaskett Foundation for the financial support of this project. She would like to highlight the precious and tireless contribution of her skilful, intelligent and reliable studio assistant Éloïse Carrier. The technical support of David Allard Martin, Mario Baillargeon, Danny Glaude, Olivier Heaps-Drolet, Ianick Raymond and Jean Talbot were also essential to realizing this body of work.
December 28th, 2018 § 0 comments § permalink
Julie Trudel will further explore the project exhibited last fall at the NARS Foundation in Brooklyn. Opening January 16.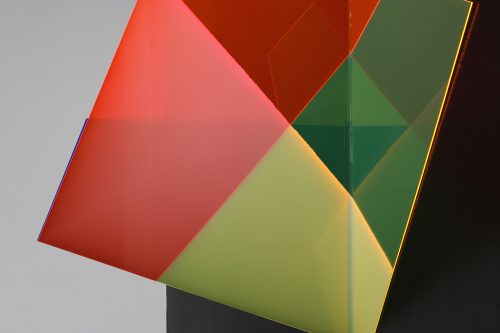 November 6th, 2018 § 0 comments § permalink
Opening November 7 from 5 to 7 PM. Artist in attendance.
The Exhibition
David Lafrance's latest paintings are an extension of his personal reflections on a landscape, and thus a society, in metamorphosis.
The artist delves into meteorological phenomena threatening our current era, both physically and psychically. The forecast is distressing and inescapable in Lafrance's observations.
Amid representations of a nature in turbulence, each painting is punctuated by a contrasting window into an idyllic pastoral scene – postcards of an idealized past uninterrupted by climate change. Reminiscent of surrealist paintings from the 1930s, Lafrance's aerial cognitive landscapes are populated by disembodied hands and arms, geometric and unstructured shapes and cartoonish faces that set the mood for the series. The sun is tired and wrinkled in "Un soleil de trop" (2018) and sleeping heads are metaphors for a dormant populace in "Sun Dog" (2018) and "Marée haute" (2018). Lafrance approaches the canvas with a sense of urgency, skilfully layering distinct forms of composition in a dynamic assemblage of painterly gestures.
About David Lafrance
David Lafrance (b. 1976) holds a Bachelor of Fine Arts from Concordia University in Montréal (2001) where he is currently completing his MFA. His work has been presented in numerous exhibitions and biennales in Canada, the US, and in France. Among his recent solo exhibitions are Maison de la culture Marie-Uguay (2018), Ceaac (2015), Strasbourg; Galerie Hugues Charbonneau (2014); L'Œil de Poisson (2014), Québec City; and the Musée régional de Rimouski (2012), which won the prize for "Best exhibition outside of Montréal" at the AGAC's Gala des arts visuels. He recently participated in various group exhibitions, namely at the Musée d'art contemporain des Laurentides (2018), Musée des beaux-arts de Montréal (2015), l'Œil de Poisson (2015), Art Action Actuel, in Saint-Jean-sur-Richelieu (2013), and at the Centre d'art l'Écart, in Rouyn-Noranda (2013).
His work is part of several private and public collections, including the Musée national des beaux-arts du Québec (CPOA), the Bibliothèque nationale du Québec; the Leonard and Bina Ellen Art Gallery, Montréal; Lotto Québec; Hydro-Québec; and Mouvement Desjardins.
October 18th, 2018 § 0 comments § permalink

Maria Hupfield, Thunderbird Mocassins, 2011

Alain Paiement, Babel Spins, 2018

Cindy Phenix, This Banal Event Translated Into a Metaphor, 2018

Karen Tam, Automata Tea Drinkers, 2014

Julie Trudel, Rectangles repliés J/B R/B J/R + noir, 2018
ART TORONTO PROJECT: KAREN TAM 
Morning Blossoms Plucked at Dusk
Location P5
PARALLEL EVENTS IN TORONTO
Maria Hupfield 
Through Lines (group exhibition)
Curator: Noa Bronstein
Critical Distance Centre for Curators, Toronto
September 13 – November 29
Guillaume Adjutor Provost
… move or be moved by some thing rather than oneself. 
Exhibition Catalogue
Authors: Florence-Agathe Dubé-Moreau and Maude Johnson
Editor: Critical Distance Centre for Curators, Toronto
Book launch on October 25, 2 – 4 PM 
/edition Art Book Fair, Metro Convention Center 
PARALLEL EVENTS IN MONTREAL
Trevor Gould
Talking to Death: An Allegory for Sculpture (solo exhibition)
Centre Clark, Montreal
October 25 – December 1, 2018
Opening on Thursday October 25, 8 PM
Artist Talk on Saturday October 27, 3 PM
August 24th, 2018 § 0 comments § permalink
The Exhibition
For her first solo exhibition at Galerie Hugues Charbonneau, Cindy Phenix is presenting Ces femmes tiennent une fleur à la main, a new series of paintings that are the fruit of a month-long residence at the gallery where Phenix set up her studio and initiated participation/discussion groups from which she drew inspiration.
With Ces femmes tiennent une fleur à la main, Phenix has developed a lexicon of happiness that pays heed to the complexity of the places it flourishes in and the attitudes it gives rise to. Beaches, boulevards, balconies or cabarets, these spaces where it unfolds are both public and private: there where the multitude becomes a crowd, thousands of isles of intimacy emerge. Voluptuousness, contemplation and friendship blossom there, but also along with voyeurism, vanity and envy. True to her forceful and intense aesthetic, Phenix alternates between solitary depictions and choral scenes to give life to an ode to boundless joy.
Artist Statement
Cindy Phenix's work focuses on the relationship between the public and private spheres. She explores the various norms that govern them, the dynamic of their coexistence, the power relations they are the site of and the emotions they trigger. To this end, the artist creates complex scenes that convey powerful narrative and affective movements.
Phenix draws her inspiration from participation/discussion groups that she organizes and leads. Through collaborative projects and shared experiences, these groups aim to raise awareness of feminine experience. At first, the women are led to interact with artworks, to take part in games and to position their bodies in installations created by the artist. They are then invited to share anecdotes and reflections as part of the discussions that Phenix guides. The bodily performances and stories shared in the process serve as fertile analysis ground for the artist who reinterprets them in her compositions.
Cindy Phenix's paintings generate a palpable formal tension. Some surfaces are made up of gestural and abstract impastos, while others—left untouched—reveal the raw potential of the canvass. Painted zones are juxtaposed with drawn lines and take us into paradoxical spaces. Many characters, depicted in transformed complexions and bodies, interact here. The ambitious and ambiguous displays and the broad spectrum of techniques that Phenix puts to the task give rise to a dazzling emotional charge.
June 20th, 2018 § 0 comments § permalink
April 30th, 2018 § 0 comments § permalink
Opening on May 2 from 5 to 7pm
This group exhibition brings together Benoit Aquin, Maria Hupfield, and Karen Tam, who use different approaches in their work to negotiate power relations between the individual, artifact, place, and history. Whether through the self and its other, or through digital or physical manipulation of the art object, re-enactment is a political gesture that simultaneously allows us to experience the past and present, yet can be used to transform and distort understandings of historical events and peoples. By appropriating methods of re-enactments, the artists challenge and resist conventional production and consumption of the self and the body (Hupfield), of information and knowledge (Aquin), and of culture (Tam).
Revisiting her performative photographic series, Counterpoint, in which two figures (the self and its other) respond to one another's presence and to the locations in which they find themselves, Hupfield disrupts the original photographs by collaging felt cutouts atop the surface, obscuring one of the models. In doing so, the artist is reasserting an individual identity and contests practices of domination and social control.
The double also appears in Aquin's project based on the life and work of photographer Anton Bequii —an alter ego whose name is an anagram of Benoit Aquin. Documenting a parallel existence and reality, Bequii's autofictive photographs are counter-sites to the dystopic illusions and transmission of (mis)information fed to us by mass media.
A similar mimicry occurs in Tam's papier-mâché sculptures that activate historical artifacts through their replicas, as well as in her smoke cutouts depicting woman warriors in Chinese history and folklore as door gods who ward off evil spirits and influences. Through these mirrored figures and doubled objects, Tam questions modes of cultural production and interpretation.
March 1st, 2018 § 0 comments § permalink
Opening on Wednesday, March 14 from 5pm to 7pm. Artist in attendance.
Galerie Hugues Charbonneau is delighted to present Introduction an exhibition by Guillaume Adjutor Provost. The artist invites you to this articulation of selected works from his exhibitions Matériellement rien, potentiellement tout (Diagonale, 2017), Providence (Association des travailleurs grecs du Québec / Clark / La SERRE, 2017) and Bonne Fortune (Clark, 2016). Through a re-exhibition of his body of work, the artist proposes a discovery, with him, of the milestones of his art practice. Given that this is the first time in his career that he is represented by a gallery, he is seizing the opportunity to explore the reference points of his artistic language. It is in view of this that he chose to use the exhibition space as a post-production site.
This retrospective exhibition presents the mainlines of Guillaume Adjutor Provost's practice: referentiality, curatorial approaches, textuality, archival and photographic languages, psychedelic manifestations. Guided by an attitude of conceptual materialism, the artist's practice inherently reveals zones of immaterial reflections buttressed by the physical object. Through their thoughts and interactions, viewers actively contribute to defining the artist's language. With Introduction, the encounter with iconographic works by Guillaume Adjutor thus becomes the site of a truly fertile analysis.
About Guillaume Adjutor Provost   
Lives and works in Montreal where he completed a doctorate in art and research at UQAM in 2017. Guillaume Adjutor Provost has received grants from the Conseil des Arts et des Lettres du Québec, the Canada Council for the Art, the OJIQ and the Sodec. His work has been shown in solo and group exhibitions in Canada, France, Germany, Belgium, Catalonia and Switzerland. In parallel, his practice has been highlighted through the Jean-Claude Rochefort award and the Claudine and Stephen Bronfman Fellowship in Contemporary Art. Since autumn 2016, he has been provided with a studio at the Fonderie Darling. In 2018, he will present a solo exhibition curated by Chloé Grondeau and Marthe Carrier at the artist centre Bikini in Lyon, participate in the exhibition … Move or be Moved by Something Rather than Oneself at Critical Distance (Toronto) curated by Florence-Agathe Dubé-Moreau and Maude Johnson, and carry out a research residency at Fondation Rupert in Vilnius, Lithuania.
January 9th, 2018 § 0 comments § permalink
Trois sculptures
Galerie Hugues Charbonneau is delighted to present Trois sculptures, an exhibition by Jonathan Plante. The exhibition reveals a series of three works from the artist's recent production The exhibited sculptures take up the same structure, i.e. a three dimensional assemblage of eight lenticular supports. A lenticular support is an extruded plastic that functions like a series of lenses guiding the eye towards an image that will change according to the viewing angle of the viewer. Known for its commercial uses, lenticular support has been mostly used to manufacture ordinary objects. For example, a postcard that is waved backed back and forth to create the illusion of motion through two overlapping images.
By using the artisanal printing process of silkscreen to introduce an element of randomness, Plant disassociates the lenticular image from an advertising aesthetic. Through this deployment of the lenticular medium, the artist explores other modes to put the image into motion. Trois sculptures proposes an experience that shifts the opposition between activity and passivity characteristic of film. According to an approach he calls kinoplastic, it is the viewer's movements that both freezes the image and puts it into motion. These works invite viewers to become aware of the fact that it is their movement that brings the world into appearance. A reflection that can also be traced back to the tradition of Robert Morris's minimalist sculpture; a practice that involves both the materiality of the work and the experience of the viewer.
About Jonathan Plante
Jonathan Plante holds a MFA from Université du Québec à Montréal. His works have been presented in solo exhibitions at Galerie de l'UQAM, Galerie Division, at Musée d'art contemporain des Laurentides as well as De Ateliers in Amsterdam. He has also participated in various group exhibitions in Quebec, the US and the Netherlands. In 2017, L'œil de poisson in Quebec City showed his solo exhibition titled L'immobile. In 2013, the artist created Lapincyclope, the first of a series of exhibitions for a young viewership to be presented at VOX — Centre de l'image contemporaine in Montréal, in addition to taking part in the Quebec Triennial 2008. His works are currently part of several public and private collections among which Musée d'art contemporain de Montréal and Musée national des beaux-arts du Québec. Jonathan Plante lives and works in Montréal.
November 10th, 2017 § 0 comments § permalink
Opening reception Saturday November 11, 3 PM to 5 PM. Artist in attendance.
Love and Anarchy
Cynthia Girard-Renard invites you to her latest project titled Love and Anarchy, inspired by the film of director Lina Wertmüller within which the action takes place inside a brothel under the ruling of Mussolini's fascist Italy. The artist has elaborated 6 erotico-political paintings where inter-species characters mingle in a carnival of pleasure even if the days are dark and the speculative scenarios apocalyptical.
Inspired by a constellation of women artists and works such as the erotic paintings of Dorothy Iannone, the body art of Carolee Schneemann and the ecosexual movement of Annie Sprinkle, Girard-Renard has produced a body of work in which polymorphous figures, intertwined between plant, human and animal, are copulating and are in exaltation, defying passivity and the status quo. Figures constructed from her own body prints cavort within a ground printed directly from tree trunks. These bark backgrounds are the perfect burlesque theater to animate this vigorous troupe of characters who defy obscurantist scenarios with satirical playlets.
About Cynthia Girard-Renard 
Cynthia Girard-Renard received her MFA from Goldsmiths College, London, UK (1998). In the fall 2017, she takes part in the Canadian Biennial presented at the National Gallery of Canada and she presents her solo exhibition Our Mad Masters at the Musée d'art de Joliette. For more than 20 years, she has been actively exhibiting in Canada and internationally, including: Uma Certa Falta de Coerencia, Porto, Portugal (2015); Esker Foundation, Calgary, Alberta (2014); Thousand Plateaus Art Space, Chengdu, China (2011); Dunlop Art Gallery, Regina (2010); Musée national des beaux-arts du Québec, Québec (2010); September Gallery, Berlin (2009); Künstlerhaus Bethanien, Berlin (2009); SPACE, London (2006); Musée d'art contemporain de Montréal (2005); etc.
The artist has been the recipient of grants from the Canada Council for the Arts and the Conseil des arts et des lettres du Québec to partake in residencies in London, Paris, New York and Berlin. Girard-Renard's work is found in the collections of the Musée d'art contemporain de Montréal, the Montreal Museum of Fine Arts, the Musée national des beaux-arts du Québec, the Canadian Ministry of Foreign Affairs, the Carleton University Art Gallery, the UQAM Gallery, the TD Bank as well as many private collections. Cynthia Girard-Renard lives and works in Montréal.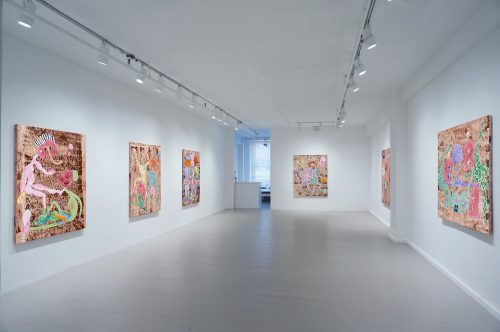 August 31st, 2017 § 0 comments § permalink
As part of MOMENTA | Biennale de l'image
Group exhibition by the artists Maria Hupfield, Chloë Lum and Yannick Desranleau
Opening reception: September 9, from 3 PM to 5 PM, artists in attendance
At Galerie Hugues Charbonneau
On the occasion of MOMENTA | Biennale de l'image, the new designation of Mois de la Photo à Montréal, Galerie Hugues Charbonneau is delighted to present the group exhibition Performance via la camera / Performance via the camera. Ami Barak, the guest curator for the 2017 biennale edition, has chosen to explore the status of the still or moving image by way of the question: What does the image stand for? According to him, the ubiquity of new media in everyday life contributes to blur the notion of photography as a witness of the real since it is now being fantasized more than ever by its author.
As a satellite MOMENTA exhibition venue, it seemed quite a propos to present the works/banners by Maria Hupfield and the duo Chloë Lum and Yannick Desranleau, because they explore questions pertaining to the processing of the contemporary image in a singular manner. More specifically, the banners resulting from their performances do not translate a documentary type photography, but rather an aesthetics developed in a premeditated day via the camera. In this case, the visual language is foregrounded both through the retouching of photos and the display of elements that trigger thought.
It is in this sense that Hupfield digitally reconstructs a mirror effect within the image in which Waaschign and Portal are played out. The goal of this optical function is to highlight the idea of an intergenerational tribute inherent in the artist's works. I really / I want / Time for / A lie, produced by Lum and Desranleau during a stay in Qatar, strategically stages portraits and manuscripts so as to bring about an effect of presence and absence recounting the essential concepts pertaining to the local pictorial traditions.
The works by Hupfield, Lum and Desranleau suggest orchestrated images that recall, in some regards, the constructed character of a commonplace publicity banner. Designed to resist changing weather conditions and to be visible from afar, the banner however relinquishes some of its original functions within an exhibition context. Those that are presented in the gallery literally overload the space and set off an immersive effect in this site.
August 29th, 2017 § 0 comments § permalink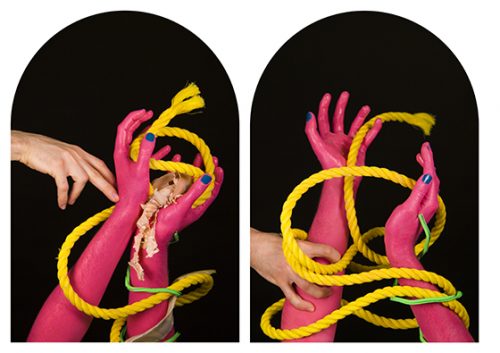 Unveiling of the public installation Laocoön at Théâtre du Nouveau Monde
Presented from August 30 to October 15, 2017
As part of KM3, an itinerary of public art works exhibited throughout the Quartier des Spectacle #km3qds.
LAOCOÖN
Titled Laocoön, a photographic installation by Chloë Lum and Yannick Desranleau evokes the myth of the Trojan priest Laocoön who was put to death by snakes after having warned his people against the Trojan Horse, a bait sent by the Greeks under the guise of an offering by the Greek army. Ordered by the gods Athena and Poseidon, Laocoön's agony opened the way for the entrance of the wooden horse within the walls of the Trojan city and, by the same token, its invasion.
Interwoven with the architectural details of Théâtre du Nouveau Monde, the work of the duo revisits this passage from Virgil's Aeneid. The tale of Laocoön is here read through a logical sequence of images that reveal both white and pink hands, and a yellow rope. Like the protagonists of this myth, these symbols of the body and the snake come to life by way of large-scale photographs presented on the façade of rue St-Urbain. Lum and Desranleau's Laocoön is a also a call to resistance for modern day whistleblowers who are still being persecuted by the authorities whose abuses they denounce.
About Chloë Lum & Yannick Desranleau
Chloë Lum and Yannick Desranleau have participated in many group exhibitions throughout Canada, the United-States, and in Europe, including the University of Texas, Austin (2015); the Center for Books and Paper Arts, Columbia College, Chicago (2015); the Musée d'art contemporain de Montréal (2011); the Kunsthalle Wien, Vienna (2010); the BALTIC Centre for Contemporary Art, Gateshead, England (2009); and at Whitechapel Project Space, London (2007). Their recent solo exhibitions include Circa Art Actuel, Montreal (2017); Khiele Gallery, St. Cloud State University, Minnesota (2016); the Confederation Centre Art Gallery, Charlottetown (2014); YYZ Artists' Outlet, Toronto (2013); and Blackwood Gallery, University of Toronto (2012). Their performances have been presented at the Darling Foundry (2015), and as part of the OFFTA festival (2016). Lum and Desranleau are also known on the international music scene as co-founders of the avant-rock group AIDS Wolf, for whom they also produced award-winning concert posters under the name Séripop.
In 2016, Desranleau was awarded the Claudine and Stephen Bronfman Fellowship in Contemporary Art, and in 2015, the duo was long-listed for the Sobey Art Award. Their work is included in many collections, namely the Victoria and Albert Museum in London; the University of Maryland Art Gallery; the Montreal Museum of Fine Arts; and the BMO collection.
Yannick Desranleau holds an MFA in sculpture from Concordia University in Montreal, and Chloë Lum is an MFA candidate at York University, Toronto. Lum & Desranleau are represented by Galerie Hugues Charbonneau in Montreal, and they currently split their time between Montreal and Toronto.
lum-desranleau.com
August 16th, 2017 § 0 comments § permalink
Entrance door: 6217 rue Henri-Julien
David Lafrance is delighted to invite you to his studio in the ghost wing of 305 rue de Bellechasse on next Wednesday August 23, from 10 AM to 10 PM. As part of our summer program titled "8 situations: 8 artists", this exceptional rendezvous will be an opportunity to revisit his artistic production and archives covering the last twenty years (1997-2017).
An installation of works will pay tribute to his favourite workspace. Several paintings, drawings, engravings, aquarelles, sketches, studies and some never-before-seen works will be available for acquisition purposes. This meeting will also be an occasion for open discussions with key art milieu professionals in attendance (artists, photographers, gallerists). A not to be missed event that will unfold in a convivial ambiance, in the image of David Lafrance.
About David Lafrance
David Lafrance (b. 1976) holds a Bachelor of Fine Arts from Concordia University in Montréal (2001). His work has been presented in numerous exhibitions and biennales in Canada, the US, and in France. Among his recent solo exhibitions are Ceaac (2015), Strasbourg; Galerie Hugues Charbonneau (2014); L'Œil de Poisson (2014), Québec City; and the Musée régional de Rimouski (2012), which won the prize for "Best exhibition outside of Montréal" at the AGAC's Gala des arts visuels. He recently participated in various group exhibitions, namely at the Musée des beaux-arts de Montréal (2015), l'Œil de Poisson (2015), Art Action Actuel, in Saint-Jean-sur-Richelieu (2013), and at the Centre d'art l'Écart, in Rouyn-Noranda (2013).
His work is part of several private and public collections, including the Musée national des beaux-arts du Québec (CPOA), the Bibliothèque nationale du Québec; the Leonard and Bina Ellen Art Gallery, Montréal; Lotto Québec; Hydro-Québec; and Movement Desjardins; Blakes; and Apollo Studios.
August 9th, 2017 § 0 comments § permalink
Opening reception on August 16th from 5pm to 7pm with the artist in attendance
At Galerie Hugues Charbonneau
With the kind collaboration Art45 gallery
By modifying algorithms and training scenarios, what will the network synthesize?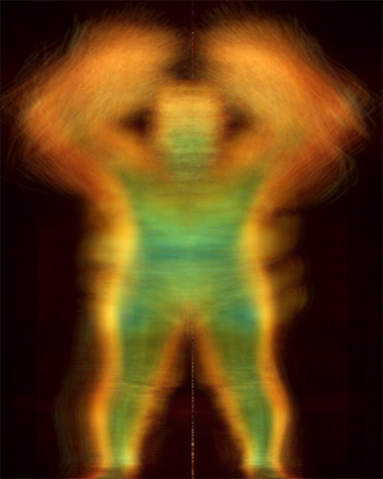 Using a state-of-the-art technique – a generative adversarial network (itself an interesting turn of phrase), a neural network has been trained to generate full body portraits that are learned from TSA three dimensional scans. The mongrel images created are not of specific persons but are 'hallucinated' by the network, through which the 'learning' process is revealed. The training dataset is from the very same scans made every time a person enters an airport terminal in the United States and several other countries. These images were released by the TSA to the public in the hope that they can develop an algorithm to automatically detect 'threats'.  On display here is the system as it learns to create images in an awkward loop of a machine being taught to imitate the images that are gathered from the biometric data.
Matthew Biederman
About Matthew Biederman
Matthew Biederman (b. 1972, Chicago Heights, IL, USA) lives and works in Montreal. He was the recipient of the Bay Area Artist Award in Video by New Langton Arts in 1999, First Place in the Visual Arts category of Slovenia's Break21 festival. He has since co-founded the Arctic Perspective Initiative, with Marko Peljhan, in 2007, a non-profit, international group of individuals and organizations, whose goal is to promote the creation of open authoring, communications and dissemination infrastructures for the circumpolar region.
Biederman works have been exhibited in the US, South America, Europe and Japan, in a variety of festivals and venues such as 7 ATA Festival Internacional (Lima), the 11th Lyon Bienniale, the 2011 Quebec Trienniale, 2014 Montreal Bienniale (Musee des Arts Contemporain), Bienniale of Digital Art (BIAN, Montreal), Artissima (Turin, IT) and Moscow Biennale, among others. As a film and video maker, his works have been included in the FILE festival (Sao Paulo), New Forms Festival (Vancouver), the Edinburgh Fringe Festival, Paris/Berlin International Meetings, and the Chicago Underground Film Festival. His public works have been shown at the ZeroOne2006 Festival (San Jose US), the SCAPE Biennial (New Zealand), notably.

Biederman is currently represented by Art45.
July 22nd, 2017 § 0 comments § permalink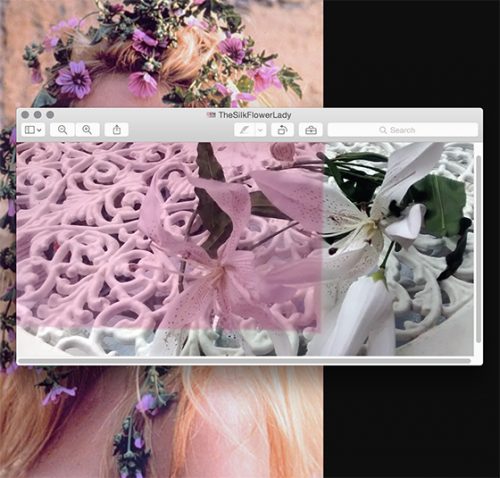 As part of our summer program "8 artists: 8 situations", Galerie Hugues Charbonneau is delighted to grant carte blanche to the performance artist Nadège Grebmeier Forget. For a period of 24 hours only, the artist will occupy our gallery space to produce a series of interventions, images and exclusive videos for our Instagram account. From midnight July 28th to midnight July 29th 2017, follow this intensive thread via the hashtag
Artist Statement:
Nadège Grebmeier Forget's art practice provokes reflection on the act of looking as a form of implicit consumption, as well as the power dynamics within which the gaze operates. Her work is characterized by a preoccupation with re-appropriation, actively exploring the role of mediation on identity performance, construction and fiction on display. Circulating within the visual and live arts communities, she has participated in numerous events, festivals, panels, residencies and exhibitions in Canada, the USA and Europe. Vulnerable, intimate, baroque and decadent, she serves discomfort.
www.nadege-grebmeier-forget.com
July 18th, 2017 § 0 comments § permalink
Public artwork KA-POW! on view at Victoria Square
As part of the Montreal 375th anniversary donation project "Promenade Fleuve-Montagne" #PromenadeFM.
KA-POW!
The word KA-POW! speaks the language of action, force, movement, breath and sound. KA-POW! is comprised of two seated bench areas fixed amongst a grove of trees at Victoria Square park. Referencing lightening bolts, geometric star blanket patterns and cartoon action text bubbles the benches are a radical act of unity to bring more integration between public spaces and the more than human natural world. The geometric forms are anchored in many levels of meaning at ground level, supporting the public under a canopy of leaves. For this site specific commission Brooklyn based performance artist Maria Hupfield centers trees as dynamic living forces in an effort to bring people together with our relations a busy intersection. KA-POW! is part of le Sentier de résilience curated by Cheryl Sim in collaboration with Phi Centre and DHC/ART. It is located at the heart of la Promenade Fleuve-Montagne.
Maria Hupfield
Hupfield activates her creations in live performance. She is interested in shared moments that open spaces for possibility and new narratives. She is deeply invested in intersectionality, indigenous feminisms, race, gender, and class. Hupfield is a member of the Anishinaabe Nation at Wasauksing First Nation, Ontario. Her recent traveling solo exhibition, The One Who Keeps On Giving, opened the thirtieth anniversary of the Power Plant Contemporary Art Gallery, Toronto. Hupfield is an alumna of the AIM program at the Bronx Museum and a Joan Mitchell Foundation recipient. Exhibitions include shows at the SITE Santa Fe Biennial, James Gallery, the BRIC Biennial, the Bronx Museum, Vox Populi, and Panoply Performance Laboratory. Hupfield was also a part of the group exhibition Beat Nation. Art, Hip Hop and Aboriginal Culture (2012-2014) presented at the Vancouver Art Gallery, Power Plant Contemporary Art Gallery and the Musée d'art contemporain de Montréal.
July 7th, 2017 § 0 comments § permalink
Launch of the book Le Renard Vulve / Satan Narval 
Wednesday, July 12 from 5 PM to 7 PM at the bar Le Cheval blanc
809 Ontario est, Montreal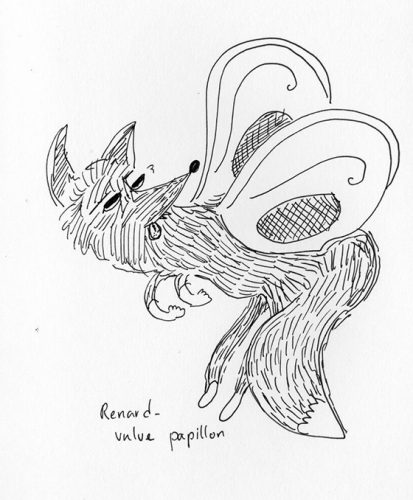 The artist-poet Cynthia Girard-Renard is delighted to announce the launch of her new book titled Le Renard Vulve. Written under the pseudonym Satan Narval, Cynthia Girard-Renard invites you to a feast in which animals are key actors in an erotico-poetic novel that takes place on Mont-Royal.
In this story based on mourning many loses, the narrator and her dog go off in search of the loved one on the Mountain, the birthplace of the plot. On her way, she meets a lesbian BDSM skunk couple, a stripper bat, a pileated woodpecker, a racoon barmaid and many other characters.
Through a series of interspecies sexual adventures and friendships, the narrator, like Alice in Wake-Land, wants you to come along on this delirious trip, reminiscent of a Journey to the End of the Mountain, from which you will not return unscathed. This story will forever change your view of Mont-Royal…
About Cynthia Girard-Renard
Satan Narval alias Cynthia Girard-Renard is a visual artist and poet. Her publications include J'ai percé un trou dans ma tête, Héliotrope, 2010, Le Soleil et l'électron, Tryptique, 2005, La Fureur des wapitis, Lanctôt éditeur, 2000, and Nous lirons du bout des yeux, Écrits des forges 1996. Her latest group exhibition, Les Fleurs animales, was held at l'Écart in Rouyn-Noranda in May 2017. Her upcoming projects include La Main invisible at McClure gallery, Westmount, September 2017 and Les Aventures du Renard Vulve at Galerie Hugues Charbonneau in November 2017. Not to mention her solo exhibition, Fictions sylvestres, at the Musée d'art contemporain de Montréal (2005), Tous les oiseaux sont ici, Kunstlerhaus Bethanien, Berlin (2009), Unicorns and Dictators, Esker Fondation, Calgary (2014) and her upcoming participation in the 2017 Canadian Biennial presented at the National Gallery of Canada.
Summary
Satan Narval, Le Renard Vulve, written and illustrated by Cynthia Girard-Renard, Montreal, 196 p.
Graphic Design: Francine Savard
Book printing: Anteism and BookArt
Price : 25$
The book will be available for online orders: http://anteism.com/shop/renardvulve
As well as at Galerie Hugues Charbonneau, librairie l'Écume des jours and at the bookstore of Galerie Clark, Montréal.
July 7th, 2017 § 0 comments § permalink
Les 5 et 6 juillet 2017, l'artiste Guillaume Adjutor Provost prendra le contrôle du compte Instagram de la Galerie Hugues Charbonneau où il présentera une série d'images en lien avec sa pratique artistique. Cette intervention d'une durée de 48 heures à lieu dans le cadre de notre programmation estivale « 8 artistes : 8 situations ». Toutes les publications d'Adjutor Provost seront visibles à l'aide du hashtag :
#guillaumeadjutorprovosttakeover
Au sujet de Guillaume Adjutor Provost  
À travers un certain indéterminisme des formes, la production de Guillaume Adjutor Provost sonde les manifestations de l'inconscient, la notion d'usage et la construction d'idéaux. Plus spécifiquement, il est question de la périphérie de ce qui fait histoire: la contre-culture, les archives personnelles, le vernaculaire, la science-fiction et les approches psychanalytiques.
Guillaume Adjutor Provost (n. 1987) vit et travaille à Montréal où il a complété un doctorat en étude et pratique des arts à l'UQAM en 2016. Ses recherches portent sur la notion d'art commissarial, à savoir l'utilisation d'approches commissariales comme mode de création. Le travail de Guillaume Adjutor Provost a été diffusé lors d'expositions solos et collectives au Canada, en France, en Allemagne, en Autriche, en Belgique et en Suisse. Parallèlement, sa pratique a été soulignée par l'attribution de la bourse Jean-Claude Rochefort et du prix Claudine et Stephen Bronfman en art contemporain.
June 13th, 2017 § 0 comments § permalink
Unveiling of the work Pourquoi les raffineries? (Why the Refineries?)
At Galerie Hugues Charbonneau
With the kind collaboration of Galerie Simon Blais
(First event of the series 8 Artists; 8 Situations)
Françoise Sullivan, a signatory of the Refus global in 1948, to this day remains one of the most inspiring creative forces of our arts community. From very early on in her career, this accomplished pluri-disciplinary artist ventured beyond established art dissemination sites to work directly with nature and the city.
As an initial step to further this spirit of pushing the boundaries and challenging the norms of the contemporary art gallery, this coming June 21 we will inaugurate an original summer program. 8 artistic situations conceived by 8 artists will be displayed in outdoor and virtual spaces as part of this project
In our view, it was very apropos to invite Françoise Sullivan for the opening evening of this series of events. In addition to counting the artist among us, we will also have the honour to unveil one of her recent works: a digital assemblage based on the "walks" she performed in Montreal during the seventies.
The gridded composition is rhythmically punctuated in the manner of a musical score; it is carried by the artist's gestures and the verticality of the stark smokestacks looming in and out of vision behind the billowing smoke of the oil refineries. With a highly effective economy of means, the contrast between the artist's free movement and her austere surroundings refers us back to the work's title: Why the Refineries?
The Gallery is grateful to the artist for her generous acceptance of this invitation. We also extend our thanks to Simon Blais and Paul Bradley for their enthusiastic contribution to this project.
After June 21, the work will be available for view by appointment only.