Opening on Wednesday, March 14 from 5pm to 7pm. Artist in attendance.
Galerie Hugues Charbonneau is delighted to present Introduction an exhibition by Guillaume Adjutor Provost. The artist invites you to this articulation of selected works from his exhibitions Matériellement rien, potentiellement tout (Diagonale, 2017), Providence (Association des travailleurs grecs du Québec / Clark / La SERRE, 2017) and Bonne Fortune (Clark, 2016). Through a re-exhibition of his body of work, the artist proposes a discovery, with him, of the milestones of his art practice. Given that this is the first time in his career that he is represented by a gallery, he is seizing the opportunity to explore the reference points of his artistic language. It is in view of this that he chose to use the exhibition space as a post-production site.
This retrospective exhibition presents the mainlines of Guillaume Adjutor Provost's practice: referentiality, curatorial approaches, textuality, archival and photographic languages, psychedelic manifestations. Guided by an attitude of conceptual materialism, the artist's practice inherently reveals zones of immaterial reflections buttressed by the physical object. Through their thoughts and interactions, viewers actively contribute to defining the artist's language. With Introduction, the encounter with iconographic works by Guillaume Adjutor thus becomes the site of a truly fertile analysis.
About Guillaume Adjutor Provost   
Lives and works in Montreal where he completed a doctorate in art and research at UQAM in 2017. Guillaume Adjutor Provost has received grants from the Conseil des Arts et des Lettres du Québec, the Canada Council for the Art, the OJIQ and the Sodec. His work has been shown in solo and group exhibitions in Canada, France, Germany, Belgium, Catalonia and Switzerland. In parallel, his practice has been highlighted through the Jean-Claude Rochefort award and the Claudine and Stephen Bronfman Fellowship in Contemporary Art. Since autumn 2016, he has been provided with a studio at the Fonderie Darling. In 2018, he will present a solo exhibition curated by Chloé Grondeau and Marthe Carrier at the artist centre Bikini in Lyon, participate in the exhibition … Move or be Moved by Something Rather than Oneself at Critical Distance (Toronto) curated by Florence-Agathe Dubé-Moreau and Maude Johnson, and carry out a research residency at Fondation Rupert in Vilnius, Lithuania.
August 29th, 2017 § 0 comments § permalink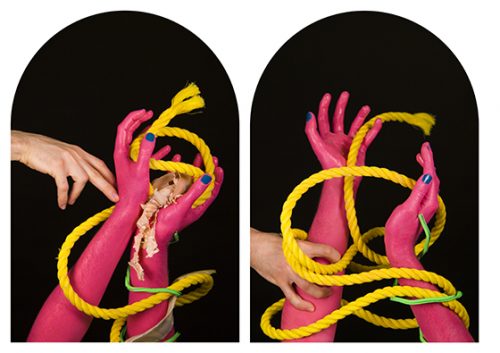 Unveiling of the public installation Laocoön at Théâtre du Nouveau Monde
Presented from August 30 to October 15, 2017
As part of KM3, an itinerary of public art works exhibited throughout the Quartier des Spectacle #km3qds.
LAOCOÖN
Titled Laocoön, a photographic installation by Chloë Lum and Yannick Desranleau evokes the myth of the Trojan priest Laocoön who was put to death by snakes after having warned his people against the Trojan Horse, a bait sent by the Greeks under the guise of an offering by the Greek army. Ordered by the gods Athena and Poseidon, Laocoön's agony opened the way for the entrance of the wooden horse within the walls of the Trojan city and, by the same token, its invasion.
Interwoven with the architectural details of Théâtre du Nouveau Monde, the work of the duo revisits this passage from Virgil's Aeneid. The tale of Laocoön is here read through a logical sequence of images that reveal both white and pink hands, and a yellow rope. Like the protagonists of this myth, these symbols of the body and the snake come to life by way of large-scale photographs presented on the façade of rue St-Urbain. Lum and Desranleau's Laocoön is a also a call to resistance for modern day whistleblowers who are still being persecuted by the authorities whose abuses they denounce.
About Chloë Lum & Yannick Desranleau
Chloë Lum and Yannick Desranleau have participated in many group exhibitions throughout Canada, the United-States, and in Europe, including the University of Texas, Austin (2015); the Center for Books and Paper Arts, Columbia College, Chicago (2015); the Musée d'art contemporain de Montréal (2011); the Kunsthalle Wien, Vienna (2010); the BALTIC Centre for Contemporary Art, Gateshead, England (2009); and at Whitechapel Project Space, London (2007). Their recent solo exhibitions include Circa Art Actuel, Montreal (2017); Khiele Gallery, St. Cloud State University, Minnesota (2016); the Confederation Centre Art Gallery, Charlottetown (2014); YYZ Artists' Outlet, Toronto (2013); and Blackwood Gallery, University of Toronto (2012). Their performances have been presented at the Darling Foundry (2015), and as part of the OFFTA festival (2016). Lum and Desranleau are also known on the international music scene as co-founders of the avant-rock group AIDS Wolf, for whom they also produced award-winning concert posters under the name Séripop.
In 2016, Desranleau was awarded the Claudine and Stephen Bronfman Fellowship in Contemporary Art, and in 2015, the duo was long-listed for the Sobey Art Award. Their work is included in many collections, namely the Victoria and Albert Museum in London; the University of Maryland Art Gallery; the Montreal Museum of Fine Arts; and the BMO collection.
Yannick Desranleau holds an MFA in sculpture from Concordia University in Montreal, and Chloë Lum is an MFA candidate at York University, Toronto. Lum & Desranleau are represented by Galerie Hugues Charbonneau in Montreal, and they currently split their time between Montreal and Toronto.
lum-desranleau.com
June 1st, 2016 § 0 comments § permalink
A Comfortable Indifference 
For its summer exhibition, Galerie Hugues Charbonneau presents a selection of works that highlight the challenging conciliation between the capitalist system and the environmental movement.
Clearly, time is running out while the acceleration of global warming endangers human populations, threatens biodiversity and causes extreme weather events. Denial is no longer an option. And yet, the unrestrained quest for economic growth and our current dependence on fossil fuels compromises our efforts to limit the increase in global temperatures and the decarbonisation of the economy. A shift toward united and sustainable principles must be taken on a global, local and individual level.
In the gallery, Benoit Aquin invites us to confront two human-made environmental disasters. First, his celebrated project, The Chinese "Dust Bowl" (2006-2009), portrays the desertification of the former Silk Road in Inner Mongolia, while his series, Mégantic (2013), documents the worst land-based oil spill to date in North America – now emblematic of the careless management surrounding the hydrocarbon lobby. For her part, Cynthia Girard-Renard presents a large painting from her project Unicorns and Dictators (2014), first exhibited at the Esker Foundation in Calgary. The work features a hybrid character reminiscent of a trickster, with smoke-belching factories for ears. He is surrounded by anxious rabbits inquiring about the future, while greenish clouds inscribed with words like, 'NATURE', 'PROFIT', and 'CAPITAL', drift overhead.
Isabelle Hayeur takes us elsewhere entirely – underwater – with her multi-year project Underworlds (2008-2015), documenting aquatic scenes of completely impaired ecosystems. This unusual vantage point effectively portrays the degradation of various bodies of water through urbanisation and massive industrialisation. Finally, David Lafrance's series titled Earthships (2015), depicts the self-sustaining dwellings of the same name, juxtaposing these with miniature bucolic scenes and schematic or abstract interpretations of the homes' energy efficient systems. Lafrance invites us to reflect on this fantasized green paradise, which sits diametrically opposed to our hyper-consumption and our technological dependence.
The title of this exhibition was inspired by Josée Blanchette's article "La confortable inconscience", published in Le Devoir on February 26, 2016.
June 26th, 2015 § 0 comments § permalink
Galerie Hugues Charbonneau opens the summer season with a group exhibition bringing together the work of gallery artists, Trevor Gould, Jean-Benoit Pouliot and Julie Trudel, as well as invited artists Maryse Goudreau and Lucie Robert. The works exhibited in Écrans all explore the concept of 'the screen,'whether it be through pictoral, historical, physical or political means.
Screens provide a paradox – they are simultaneously capable of being both revealing and concealing. This duality which constructs and conditions our gaze, expresses the inevitable incompleteness of the images that surround us as they evoke what is left out and what underwrites them. The screen then becomes an aesthetic, political and philosophical device, that allows us to analyze and understand the world we live in. It mobilizes ideas around interpretation or fractured narratives as it nourishes a broader understanding of our relationship with the immaterial, the fleeting.
A conduit for art straddling material and media, the screen can be understood as a physical or abstract support, but can also be seen as a historical and cultural construction, as a body-image norm-establishing weapon, as iconographic and conceptual foliation…Finally, the idea of the screen refers to a whole archeology of images and to a history of ideas.
February 24th, 2015 § 0 comments § permalink
Vernissage: March 14, 3pm – 5pm with the artist present.
Instants, maybe
In the second phase of his 2014-2015 solo project at Gallery Hugues Charbonneau, Alain Paiement delves deep into the imposing photo bank that represents all the images he has captured throughout his thirty-year career, but which until now have almost never been put to use.
The artist states, "Basically, I've always 'taken' photos. I find photographic subjects wherever I go. There are hundreds. They are captured instantly, usually with hand held camera and no tripod."
Alain Paiement is redefining the temporality of his "snapshots," a term that usually suggests spontaneity and immediacy, in opposition to premeditated staging. Yet, by rigorous technical manipulation of the image, each work in this series combines several individual photographs. As a result we see multiple realities, 'images of images', obtained through overlay, juxtaposition, collage and other ways of stitching moments together.
This series embodies Paiement's most recent research: it situates his increasing interest in the notion of time by bringing together different temporalities within his creative process (recent manipulations of old photographs, for example). These works reflect on the instantaneous nature of contemporary culture and the importance of the present in linking society to its past and to its immanent future.
Alain Paiement
Alain Paiement has been a key figure in contemporary Canadian photography. He researches the possibilities of how photography unfolds through time and space and translates this into images. Through installation, photo series, and video, Paiement experiments with perspective, telescopic views and lenses, as well as scanning, to explore the constantly changing relationship between the subject, its gaze and its environment.
Paiement's work has been presented in numerous exhibitions since the 1980s throughout Canada and the United States, but also in Europe, Latin America, and Asia. His work has frequently featured in exhibition catalogues, monographs and articles in various media and specialised journals. He has also realised many public art works, notably Tessellations sans fin (2012) at the CHUM Research Centre in Montreal. Paiement's work is held in major public and private collections in Canada, the United States, Spain and Belgium.
December 21st, 2014 § 0 comments § permalink
Opening: Saturday, January 17 from 3 to 5 PM, artist in attendance
Karen Tam's work revolves around issues relating to the representation of Asia in America and Europe through art, literature, media and consumer goods. She questions this slightly distorted Orient: an Orient tailor-made to the taste of the Western market.
Through appropriation and subversive strategies, Tam meticulously reproduces antiques, ornaments, traditional Chinese cutouts, typical interiors of Chinese restaurants and even opium dens. Yet, the artist maintains a subtle distinction between the original source of inspiration and her own interpretation from which emerges a clear critique that activates cultural and identity issues relating to racism and the globalization of trade.
Ironically, Tam's sculptures and installations appropriate and magnify the aesthetics of this China fantasized by and for the West, through cutouts whose traditional iconography has been subverted, antique porcelain made from papier-mâché, and decorative lanterns out of cardboard.
The cultural overlap that these contemporary chinoiseries reflect triggers again the history of trade routes between 'East' and 'West'; it recalls the Canadian government's exclusionary policies towards the Chinese; it deals with the imaging of cultures through contact and stereotypes; just as it updates the question of authenticity in contemporary art using a cultural studies framework.
The exhibition Karen Tam. Made in Britain marks the return of the artist to Montreal, where her last solo show took place in 2005. The works presented for this occasion were made during the time she lived in London while completing her doctoral studies at Goldsmiths.
Karen Tam lives and works in Montreal, Britain and the United States. She holds a MFA from The School of the Art Institute of Chicago and a PhD from the Centre for Cultural Studies at Goldsmiths, University of London. Since the 2000s, her work has been featured in exhibitions in Canada, Ireland, UK, Austria, United States, and China. She has been the recipient of multiple fellowships and grants and was on the longlist for the prestigious 2010 Sobey Art Award.
www.karentam.ca
November 7th, 2014 § 0 comments § permalink
For almost thirty years, Alain Paiement has been a key figure in contemporary Canadian photography. He researches the possibilities of how photography unfolds through time and space and translates this into images. Throughout his career, he has represented the movement of the world, at a micro level, mapping architectures with aerial views, and at a macro level, in representationsof solar and lunar cycles.
He now turns his attention to the depths of the ocean to capture videos of the hypnotic ballet of the moon jellyfish, and pieces of ice adrift on the Saint-Lawrence River. Here, Alain Paiement reaffirms the rigorous processes that characterize his approach as he plays with the images' construction and the viewer's perception. He reanimates series of still photographs or multiple perspectives of the same subject, juxtaposing these representations, but also altering their symmetry, synchrony, movement, and symbolism.
The manipulated images emerge from black backgrounds. It is difficult to determine whether they are photographs or moving images. They are blurring our perception of time, which seems distended and unstructured.
This important solo exhibition by Alain Paiement will be presented in two parts. The second instalment will take place in 2015.
The artist would like to thank Guilhem Molinier and the Fond de recherche du Québec – Société et culture.
Alain Paiement's work has been presented in numerous exhibitions since the 1980s throughout Canada and the United States, but also in Europe, Latin America, and Asia. He has received several prizes in contemporary photography, and has produced many public artworks in Québec, namely for the new CHUM in Montréal (2013). His work is included in major institutional and private collections in Canada, the US, Spain, and Belgium.