February 27th, 2019 § 0 comments § permalink
For his first exhibition at Galerie Hugues Charbonneau, Moridja Kitenge Banza is presenting  a painting from his series "Christ Pantocrator" which explores the complexity of his Congolese cultural identity through deeply rooted colonial symbols that he subjects to shifts in meaning. The artist describes this series in the following text.
A Christ Pantocrator is a Byzantine icon of Christ represented as almighty in his glorious body. This painting series borrows this representation as a starting point to question my relationship to masks from Africa found in Western art museums.
In most African cultures, masks are meant to be used in sacred rites and ceremonies celebrating birth, death or harvest. When dispalced as static objects in museums, they become amputated from their contexts of origin, simultaneously revealing aporias : the aritsts' identities are unknown and their provenance, undisclosed to the people and places they come from. Silent and detached from contemporary African life, these masks are nonetheless a material testament of the diversity and complexity of these societies. They are essential vehicules of customs and heritage for future generations of africans.
My reflexions are guided by a critical analysis of historical and cultural aspects of my country, the Democratic Republic of the Congo, as well as my own history, combining multiple layers of narratives and meanings. Catholicism plays an important role, passed on to my ancesters by Jesuit priests during the evangelization of the Congo, and carried through my ancestry, as well as my own family's experiences. My current outlook on these persistant symbols is energized by an intersecting creative intent, between memory and reappropriation.
To this end, I draw from various museum collections that possess African masks. I reproduce Pantocrator paintings, over which I paint the masks I have chosen, covering the face of Christ. Through this intervention, I return its glory to the sacred object and reactivate its function: that of being worn.
Biography
Canadian Congolese aritst Moridja Kitenge Banza was born in Kinshasa in 1980 in the Democratic Republic of the Congo. He holds degrees from l'Académie des beaux-arts de Kinshasa, from l'École supérieure des beaux-arts de Nantes Métropole and from the Humanities and Social Sciences faculty of l'Université de La Rochelle.  In 2010, he was awarded the first prize of the Biennale of Contemporary African Art, DAK'ART for his video Hymne à nousand his installation work De 1848 à nos jours. His work was part of exhibitions at the Musée Dauphinois (Grenoble, France), at the Museum of Contemporary Art (Rosklide, Danemark), at the Arndt Gallery and Ngbk (Berlin, Allemagne), at the Biennale Internationale de Casablanca (Casablanca, Maroc), at the Fondation Attijariwafa bank (Casablanca, Maroc), at the Fondation Blachère (Apt, France) as well as at the BAnQ, at galerie Joyce Yahouda, at Oboro and at the Musée des beaux-arts de Montréal (Montréal, Canada).
Artist Statement
As a multidisciplinary artist, I express myself through painting, photography, video, drawing and installation.
My process is situated at the intersection of reality and fiction. Through this lens, I question the history, memory and identity of the places where I live or have lived in relation to the place I occupy in these localities. I intentionally confuse fact and fiction to problematize hegemonic narratives and create spaces where marginalized discourse could flourish. Drawing from past and present situations, I organize, assemble and trace figures, as would a land surveyor, by reappropriating the codes of cultural, political, social and economic representations. In so doing, I build my own tools to better invest the "other's" territory in order to enrich all the fields of research that inspire my practice.
The gallery would like to extend its gratitude to Anne-Isabelle Pronkina for her contribution to the development of the exhibition's concept.
August 9th, 2017 § 0 comments § permalink
Opening reception on August 16th from 5pm to 7pm with the artist in attendance
At Galerie Hugues Charbonneau
With the kind collaboration Art45 gallery
By modifying algorithms and training scenarios, what will the network synthesize?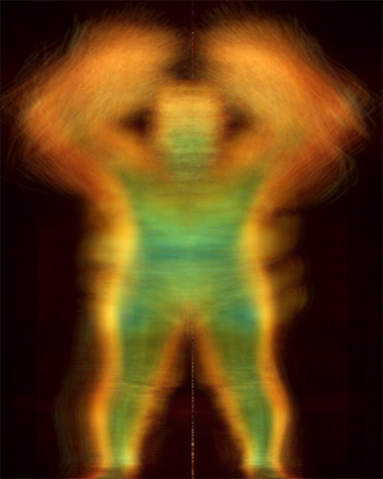 Using a state-of-the-art technique – a generative adversarial network (itself an interesting turn of phrase), a neural network has been trained to generate full body portraits that are learned from TSA three dimensional scans. The mongrel images created are not of specific persons but are 'hallucinated' by the network, through which the 'learning' process is revealed. The training dataset is from the very same scans made every time a person enters an airport terminal in the United States and several other countries. These images were released by the TSA to the public in the hope that they can develop an algorithm to automatically detect 'threats'.  On display here is the system as it learns to create images in an awkward loop of a machine being taught to imitate the images that are gathered from the biometric data.
Matthew Biederman
About Matthew Biederman
Matthew Biederman (b. 1972, Chicago Heights, IL, USA) lives and works in Montreal. He was the recipient of the Bay Area Artist Award in Video by New Langton Arts in 1999, First Place in the Visual Arts category of Slovenia's Break21 festival. He has since co-founded the Arctic Perspective Initiative, with Marko Peljhan, in 2007, a non-profit, international group of individuals and organizations, whose goal is to promote the creation of open authoring, communications and dissemination infrastructures for the circumpolar region.
Biederman works have been exhibited in the US, South America, Europe and Japan, in a variety of festivals and venues such as 7 ATA Festival Internacional (Lima), the 11th Lyon Bienniale, the 2011 Quebec Trienniale, 2014 Montreal Bienniale (Musee des Arts Contemporain), Bienniale of Digital Art (BIAN, Montreal), Artissima (Turin, IT) and Moscow Biennale, among others. As a film and video maker, his works have been included in the FILE festival (Sao Paulo), New Forms Festival (Vancouver), the Edinburgh Fringe Festival, Paris/Berlin International Meetings, and the Chicago Underground Film Festival. His public works have been shown at the ZeroOne2006 Festival (San Jose US), the SCAPE Biennial (New Zealand), notably.

Biederman is currently represented by Art45.
October 6th, 2015 § 0 comments § permalink
Vernissage: October 10 from 3 to 5pm. The artist will be present.
Stay Golden
Galerie Hugues Charbonneau is pleased to welcome Maria Hupfield for her second solo exhibition at the gallery. Based on her performance titled Jiimaan, which took place in Venice in May 2015, Stay Golden presents a new collection of gold sculptures, a life-size grey felt canoe, and a two-channel video.
Maria Hupfield's installations, much like her performances, employ various strategies for occupying space. The artist is interested in how the charged identity of sites can impact our behaviour, but also how they can define our identity or change our perception of things. How do we appropriate a new place for ourselves? How do we activate the places that surround us? Can these be a source of empowerment or of communion with the past?
Similarly, material culture and the symbolic or emotional value we imbue certain objects with, is at the core of her research. In the gallery, public memory is superimposed on the artist's own, through objects in her Trophy Wall, an assemblage of grey felt or gold fabric sculptures; relics and artefacts of one or many previous performances. This commemorative wall suggests both a celebration and a laying to rest of these now "museum-ified" objects.
Hupfield's hand-made nine-foot canoe is the central element of the Jiimaan performance, which the artist enacted as part of the Ga ni tha exhibition in the Campo dei Gesuiti in Venice. An eponymous two-channel video retraces the different stages of this intervention: over three consecutive days, Hupfield performed before the public each evening, then recreated the previous night's performance the following morning, alone and from memory.
This piece reveals key concepts in the artist's work, namely proficiency, cultural memory, and the body's presence. She proposes a meeting between nations and their history through the Canadian and Anishinaabe traditions of birch bark canoe building, paralleling this with the fabrication of gondolas by Venetian artisans. Moreover, the participatory nature of Jiimaan's public performances makes direct reference to Anishinaabe oral traditions and Hupfield's desire to create memories through shared human experience.
Maria Hupfield
Maria Hupfield's work extends through performance, installation, sculpture, video, photography, and collage. Over the past ten years, numerous institutions throughout Canada, the US, and Europe have presented her work and performances in solo and group exhibitions, namely the North American Native Museum, Zurich (2014), the Musée d'art contemporain de Montréal (2014), the Smithsonian's National Museum of the American Indian, Washington D.C. (2013), the National Gallery of Canada (2013), the Museum of Art and Design, New York (2012), the Museum of Contemporary Native Arts, Santa Fe (2011), and the McCord Museum, Montréal (2011). Maria Hupfield is a Canadian artist of Anishinaabe (Ojibway) heritage, and a member of the Wasauksing First Nation in Ontario. She lives and works in Brooklyn, New York.
February 24th, 2015 § 0 comments § permalink
Vernissage: March 14, 3pm – 5pm with the artist present.
Instants, maybe
In the second phase of his 2014-2015 solo project at Gallery Hugues Charbonneau, Alain Paiement delves deep into the imposing photo bank that represents all the images he has captured throughout his thirty-year career, but which until now have almost never been put to use.
The artist states, "Basically, I've always 'taken' photos. I find photographic subjects wherever I go. There are hundreds. They are captured instantly, usually with hand held camera and no tripod."
Alain Paiement is redefining the temporality of his "snapshots," a term that usually suggests spontaneity and immediacy, in opposition to premeditated staging. Yet, by rigorous technical manipulation of the image, each work in this series combines several individual photographs. As a result we see multiple realities, 'images of images', obtained through overlay, juxtaposition, collage and other ways of stitching moments together.
This series embodies Paiement's most recent research: it situates his increasing interest in the notion of time by bringing together different temporalities within his creative process (recent manipulations of old photographs, for example). These works reflect on the instantaneous nature of contemporary culture and the importance of the present in linking society to its past and to its immanent future.
Alain Paiement
Alain Paiement has been a key figure in contemporary Canadian photography. He researches the possibilities of how photography unfolds through time and space and translates this into images. Through installation, photo series, and video, Paiement experiments with perspective, telescopic views and lenses, as well as scanning, to explore the constantly changing relationship between the subject, its gaze and its environment.
Paiement's work has been presented in numerous exhibitions since the 1980s throughout Canada and the United States, but also in Europe, Latin America, and Asia. His work has frequently featured in exhibition catalogues, monographs and articles in various media and specialised journals. He has also realised many public art works, notably Tessellations sans fin (2012) at the CHUM Research Centre in Montreal. Paiement's work is held in major public and private collections in Canada, the United States, Spain and Belgium.
July 17th, 2014 § 0 comments § permalink
The exhibition
Galerie Hugues Charbonneau presents a solo exhibition of works by Montreal artist David Lafrance. Observational drawings from the Montérégie region are shown alongside paintings created subsequently in his studio. These cognitive representations of the countryside stem from deep introspection, and evoke the memory of place and the current dynamics that inhabit it.
The large canvases on display often suggest landscapes, and benefit from the artist's vast visual repertoire, simultaneously encompassing folk art imagery, pastoral scenes created through the subtle layering of glazes, maps sketched in freehand, and expressive impasto techniques.
Among the depicted scenes, symbols from popular culture become cultural clues in themselves. Folk art objects or modern relics inscribed within these turbulent landscapes offer a glimpse into our industrialized society's relationship with nature. Indeed, the troubling yet seductive environments created by the artist through the amalgamation of anachronistic objects become cathartic tools to express life's paradoxical impulses. These dichotomies, where symbolically charged objects cohabit in natural, yet unidentifiable spaces, trigger a narrative discourse that foregrounds the complex relationship modern humans have with their environment. Nature and civilisation meet in Lafrance's creative work, allowing us to revisit our preconceived notions of reality.
Artist's statement
Painter, sculptor and sound installation artist, Lafrance creates unique works where an exalted natural world unfolds and merges with elements of human life. Through the creation of Edenic landscapes, Lafrance explores his own psyche and awakens his sensitive spirit to test the limits of expressionism. Within the artist's practice, where basic subjectivity is laid bare, expressiveness is used to explore human cognitive reflexes and reveal specific points of view. By doing so, the artist uses art's expressivity to confer critical value upon it. Indeed, Lafrance's enigmatic work generally revolves around dissenting themes such as escapist pursuits, industrialization, nature, or individual and collective identity.