Opening on May 2 from 5 to 7pm
This group exhibition brings together Benoit Aquin, Maria Hupfield, and Karen Tam, who use different approaches in their work to negotiate power relations between the individual, artifact, place, and history. Whether through the self and its other, or through digital or physical manipulation of the art object, re-enactment is a political gesture that simultaneously allows us to experience the past and present, yet can be used to transform and distort understandings of historical events and peoples. By appropriating methods of re-enactments, the artists challenge and resist conventional production and consumption of the self and the body (Hupfield), of information and knowledge (Aquin), and of culture (Tam).
Revisiting her performative photographic series, Counterpoint, in which two figures (the self and its other) respond to one another's presence and to the locations in which they find themselves, Hupfield disrupts the original photographs by collaging felt cutouts atop the surface, obscuring one of the models. In doing so, the artist is reasserting an individual identity and contests practices of domination and social control.
The double also appears in Aquin's project based on the life and work of photographer Anton Bequii —an alter ego whose name is an anagram of Benoit Aquin. Documenting a parallel existence and reality, Bequii's autofictive photographs are counter-sites to the dystopic illusions and transmission of (mis)information fed to us by mass media.
A similar mimicry occurs in Tam's papier-mâché sculptures that activate historical artifacts through their replicas, as well as in her smoke cutouts depicting woman warriors in Chinese history and folklore as door gods who ward off evil spirits and influences. Through these mirrored figures and doubled objects, Tam questions modes of cultural production and interpretation.
May 2nd, 2017 § 0 comments § permalink
The Chinese "Dust Bowl"
(2006-2008) series by Benoit Aquin. These works are coming back to Montréal following the Prix Pictet retrospective at the Mouravieff-Apostol House & Museum in Moscow. The exhibition will celebrate the 10
th
anniversary of the internationally acclaimed and award winning series of photographs documenting the human caused desertification of northern China and Inner Mongolia.
The Chinese ''Dust Bowl''
Benoit Aquin has been travelling the world for over twenty five years to transform the image into a poignant witness of the often conflictual relationship between humans and the land. Guided by a masterful balance, his work combines some features of documentary photography with those of contemporary art photography. He plays on this tension and the fuzzy boundary between disciplines and formal languages in order to highlight phenomena that are linked to ecological and humanitarian crises, thus placing the series he creates within the tradition of socially engaged photography.
In this series, the success of Aquin's photography approach is rooted as much in the pertinence of his environmental discourse as in its aesthetic originality. His strong visual signature is characterized by a mysterious golden luminosity, which is both unsettling and mesmerizing. The artist turns his camera away from one-dimensional, sensationalist images to instead favour quilted, complex and decentred compositions that simultaneously display the multiple forces and energies in play: the effect of China's immense food needs on the agricultural lands, a destabilized nature that is unleashed in sandstorms, the migration of rural populations towards the cities, the austere strategies of communist city planning.
The series The Chinese "Dust Bowl" received the National Magazine Award Silver Medal for Photojournalism and Photo Essays as well as the prestigious Prix Pictet. Benoit Aquin was also the recipient of the Prix Antoine-Desilets (2006), the Canadian National Newspaper Award (2007) and the Grand Prix Lux (2007).
Benoit Aquin's Biography
Since 1998, after his studies at the New England School of Photography in Boston, Benoit Aquin has participated in several solo and group exhibitions in Canada, the US, France, Switzerland, Holland, Spain, Greece, Germany, China, UK, Russia and the United Arab Emirates. Among his exhibitions let us highlight the ones at the Canadian Museum of Contemporary Photography (1994); Musée national des beaux-arts du Québec (1996); Palais de Tokyo, Paris (2008); Musée de l'Élisée, Lausanne (2010); Museum of Photographic Arts, Sans Diego (2011); McCord Museum, Montréal (2013); Somerset House, London (2013); Montréal Museum of Fine Arts (2013 and 2015); FotoDock, Holland (2014); Mouravieff-Apostol House & Museum (2016); as well as his participation in Mois de la Photo à Montréal (1993, 1997, 2003); the Canadian Biennial of the National Gallery of Canada (2012, 2017); and the Rencontres d'Arles in France (1991, 2014). His works have been reproduced in many magazines throughout the world, among which Time Magazine, Canadian Geographic, The Guardian, Foto8, Canadian Art, Walrus Magazine, L'actualité and Art Forum. He has also participated in the publishing of over a dozen press stories, monographs or photographic essays in order to share his environmental and humanitarian concerns with a broad public.
Benoit Aquin's works are part of the collections, among others, of the Montréal Museum of Fine Arts; Musée national des beaux-arts du Québec; Canadian Museum of Contemporary Photography; Canada Council Art Bank; Banque Pictet, Geneva; Mouvement Desjardins; Banque Nationale; Caisse de Dépôt; Hydro-Québec; One Drop Foundation; Library of Congress, Washington D.C.; and the François Pinault collection. Benoit Aquin is represented by Galerie Hugues Charbonneau.
June 1st, 2016 § 0 comments § permalink
A Comfortable Indifference 
For its summer exhibition, Galerie Hugues Charbonneau presents a selection of works that highlight the challenging conciliation between the capitalist system and the environmental movement.
Clearly, time is running out while the acceleration of global warming endangers human populations, threatens biodiversity and causes extreme weather events. Denial is no longer an option. And yet, the unrestrained quest for economic growth and our current dependence on fossil fuels compromises our efforts to limit the increase in global temperatures and the decarbonisation of the economy. A shift toward united and sustainable principles must be taken on a global, local and individual level.
In the gallery, Benoit Aquin invites us to confront two human-made environmental disasters. First, his celebrated project, The Chinese "Dust Bowl" (2006-2009), portrays the desertification of the former Silk Road in Inner Mongolia, while his series, Mégantic (2013), documents the worst land-based oil spill to date in North America – now emblematic of the careless management surrounding the hydrocarbon lobby. For her part, Cynthia Girard-Renard presents a large painting from her project Unicorns and Dictators (2014), first exhibited at the Esker Foundation in Calgary. The work features a hybrid character reminiscent of a trickster, with smoke-belching factories for ears. He is surrounded by anxious rabbits inquiring about the future, while greenish clouds inscribed with words like, 'NATURE', 'PROFIT', and 'CAPITAL', drift overhead.
Isabelle Hayeur takes us elsewhere entirely – underwater – with her multi-year project Underworlds (2008-2015), documenting aquatic scenes of completely impaired ecosystems. This unusual vantage point effectively portrays the degradation of various bodies of water through urbanisation and massive industrialisation. Finally, David Lafrance's series titled Earthships (2015), depicts the self-sustaining dwellings of the same name, juxtaposing these with miniature bucolic scenes and schematic or abstract interpretations of the homes' energy efficient systems. Lafrance invites us to reflect on this fantasized green paradise, which sits diametrically opposed to our hyper-consumption and our technological dependence.
The title of this exhibition was inspired by Josée Blanchette's article "La confortable inconscience", published in Le Devoir on February 26, 2016.
August 27th, 2015 § 0 comments § permalink
Opening cocktail: September 12, from 3 to 5pm with the artists in attendance
Galerie Hugues Charbonneau starts up the new season with an exhibition responding to the theme of the 2015 edition of le Mois de la Photo à Montréal, post-photography. L'image signée brings together Benoit Aquin, Alain Paiement, Jonathan Plante and Seripop (Chloe Lum & Yannick Desranleau) in an exhibition where each work asserts, in its own way, both the important role of the author and his or her presence in the image.
Post-photography describes a situation in contemporary photography that is characterized by a heightened accessibility to new technologies and the ubiquity of networked image-sharing applications and web platforms. Facebook, Instagram, Snapchat, Twitter, etc. are tools for creation and dissemination that also overturn notions of originality and the integrity of the photograph in contemporary art. Le Mois de la Photo has chosen to present a selection of artists whose works have formed the aesthetic canon that these new tools seem to have given birth to.
Galerie Hugues Charbonneau, however, invites the viewer to consider the question from a different angle, reversing post-photography's erasure of the author and the subsequent danger for art itself. Instead, L'image signée brings together works that frame the artist's hand and bear witness to the making and workmanship of the image. Each work questions the limits of photography and, in so doing, reaffirms its attachment to contemporary art, particularly in light of these recent developments in our relationship to images. Benoit Aquin spotlights his own presence through the use of powerful flash; Alain Paiement composes dizzying ensembles of spherical images; Jonathan Plante plays tricks on the viewer through the presentation of painted images in motion; and Seripop deconstructs the two-dimensionality of photography in sculpture.
Each of these artists puts his or her signature on an image that sincerely believes in its own uniqueness, undeterred by the current overabundance of photographic imagery.
Views of the exhibition:
May 24th, 2014 § 0 comments § permalink
The artist Karen Tam would like to acknowledge the support of the Canada Council for the Arts.
April 6th, 2014 § 0 comments § permalink
October 17th, 2013 § 0 comments § permalink
Metro Toronto Convention Centre
April 26th, 2013 § Comments Off on Foire Papier 13 § permalink
Du 26 au 28 avril 2013
(soirée d'ouverture VIP le jeudi 25 avril)
À l'angle des rues De Bleury et Sainte-Catherine
www.papiermontreal.com
January 12th, 2013 § Comments Off on Time has Stopped : Benoit Aquin, Tammi Campbell, Karine Payette, Jonathan Plante § permalink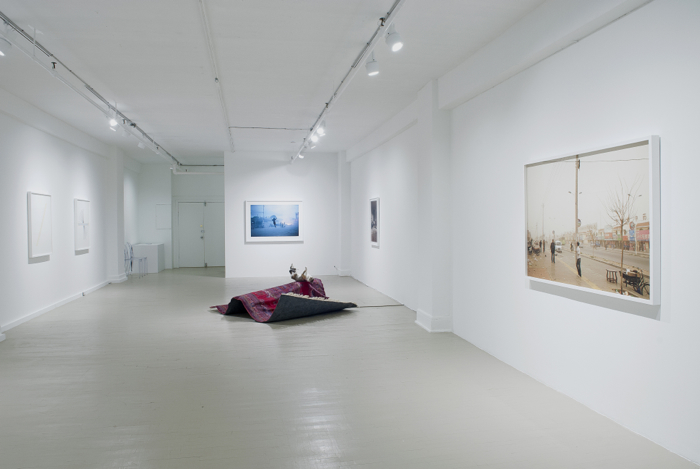 Le temps s'est arrêté – Time Has Stopped, Galerie Hugues Charbonneau, Montréal, 2012 (photo Éliane Excoffier)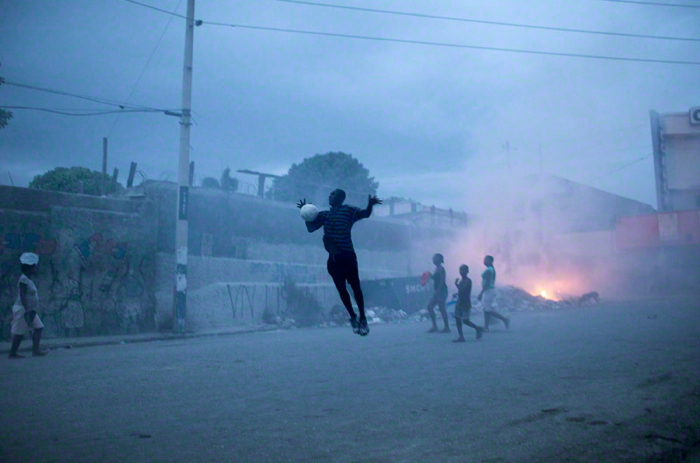 Benoit Aquin, L'envolée, 2010, épreuve digitale, digital print, éd. 3/5, 32″ x 48″ (+ éd. 5, 24″ x 36″) (+ éd. 2, 20″ x 30″)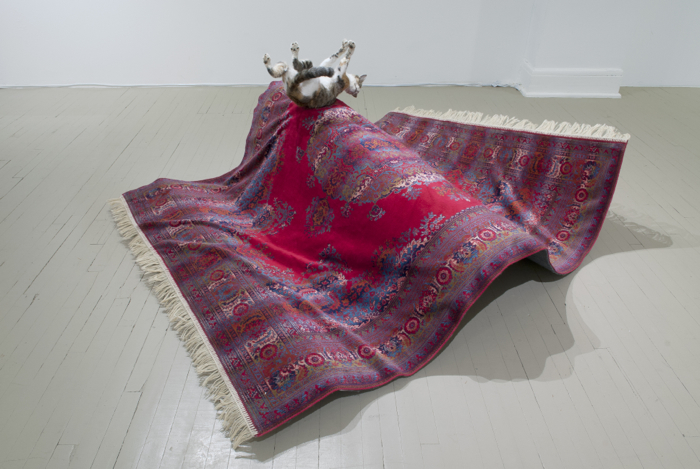 Karine Payette, Juste avant, 2013, installation, tapis, chat naturalisé, bois, disque de lévitation magnétique, installation, carpet, taxidermie cat, wood, magnetic levitation disc, 62 " x 74″ x 18 " (photo Éliane Excoffier)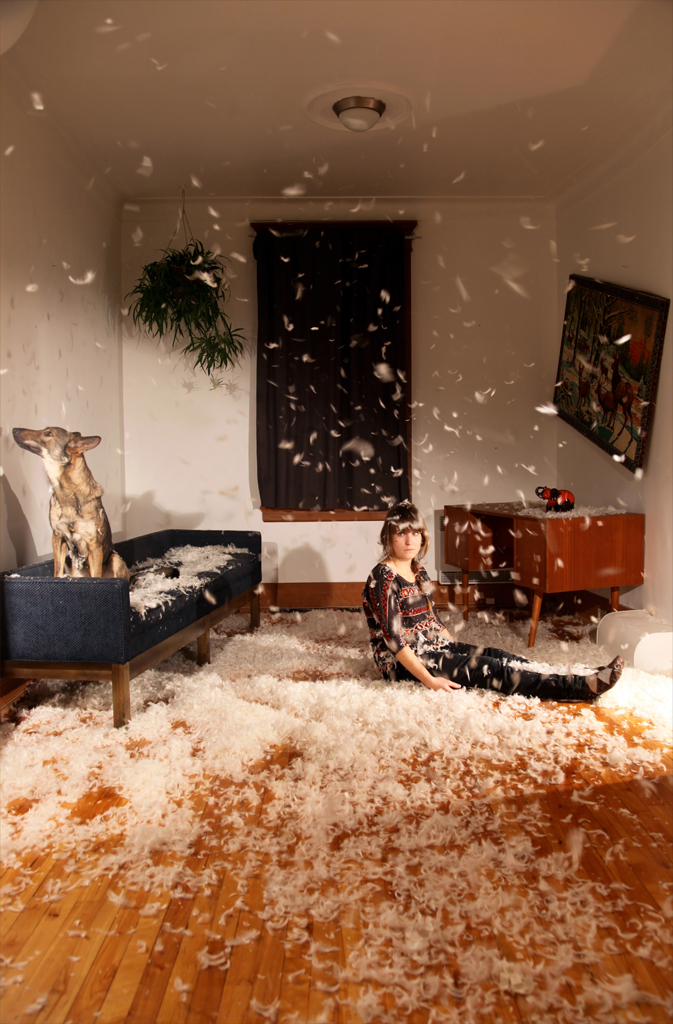 Karine Payette, Moment d'incertitude I, 2012, impression numérique, digital print, éd. 4, 35.5″ x 26.5″
Le temps s'est arrêté – Time Has Stopped, Galerie Hugues Charbonneau, Montréal, 2012, (photo Éliane Excoffier)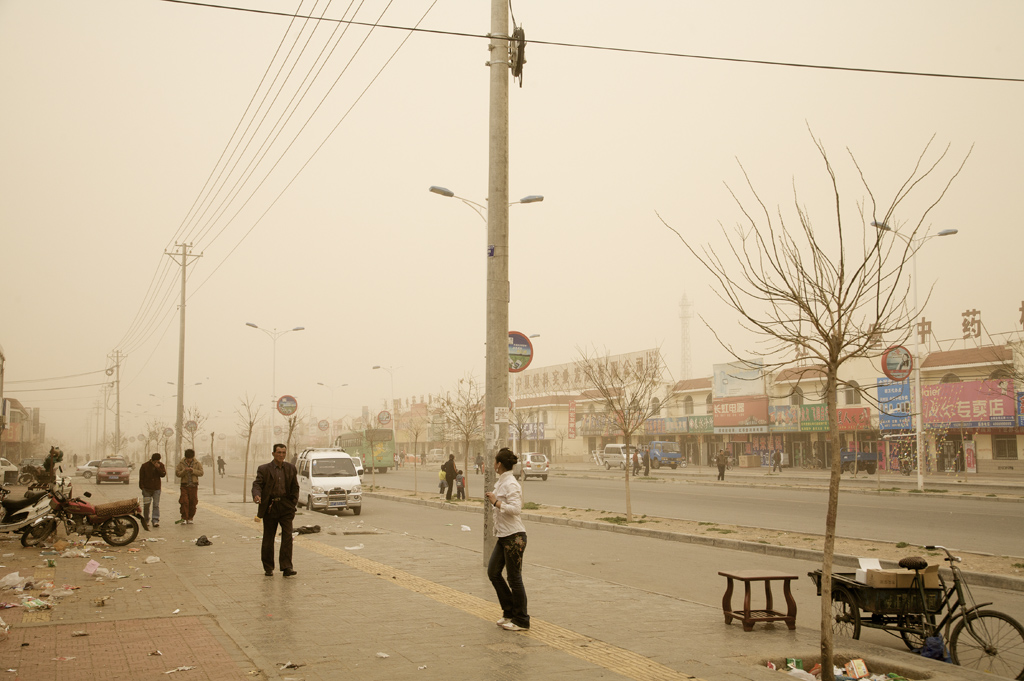 Benoit Aquin, Tempête è Hongsibao, Chine (Le Dust Bowl chinois), 2007, impression digitale, digital print, éd 7, 40″ x 60″ (+ éd 5, 32″ x 48″)
Benoit Aquin, Berger a Wuwei, Chine (Le Dust Bowl chinois), 2006, impression digitale, digital print, éd 7, 32″ x 48″ (+ éd 5, 40″ x 60″)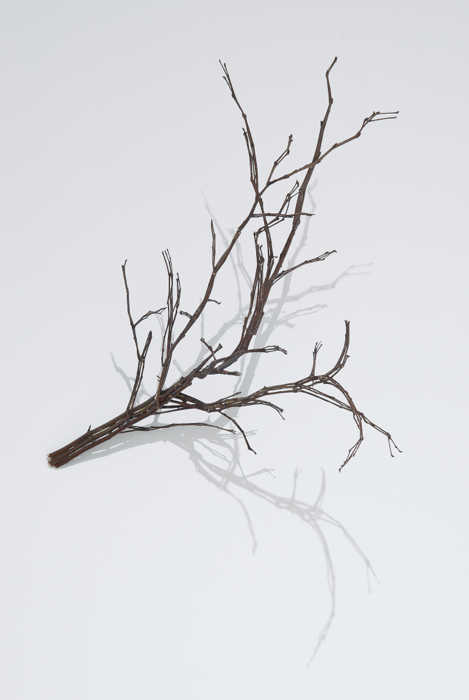 Jonathan Plante, Treesome, 2008, bois, wood,19.5″ x 31.5″ x 18″ (photo Éliane Excoffier)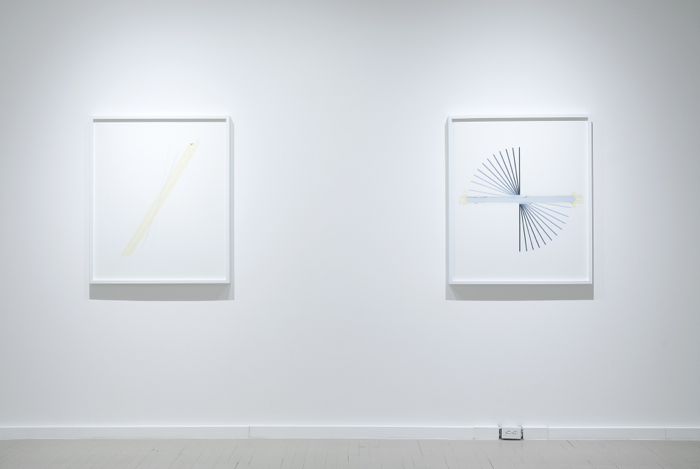 Le temps s'est arrêté – Time Has Stopped, Galerie Hugues Charbonneau, Montréal, 2012, (photo Éliane Excoffier)
Tammi Campbell, from Work in Progress series (Banff2012h), 2012, acrylique sur carton musée, acrylic on museum board, 38″ x 32″
Tammi Campbell, from Work in Progress series (Banff2012h) (détail), 2012, acrylique sur carton musée, acrylic on museum board, 38″ x 32″
Galerie Hugues Charbonneau is proud to exhibit six photographs excerpted from