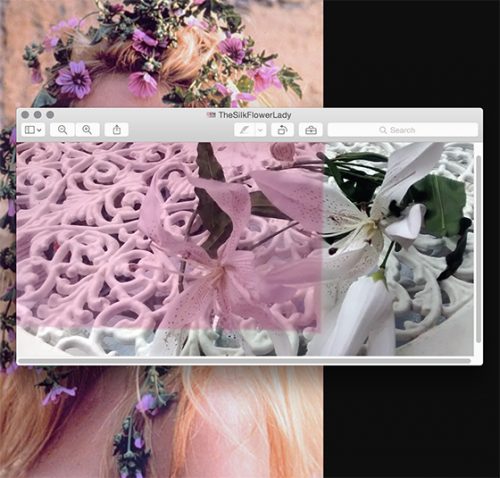 As part of our summer program "8 artists: 8 situations", Galerie Hugues Charbonneau is delighted to grant carte blanche to the performance artist Nadège Grebmeier Forget. For a period of 24 hours only, the artist will occupy our gallery space to produce a series of interventions, images and exclusive videos for our Instagram account. From midnight July 28th to midnight July 29th 2017, follow this intensive thread via the hashtag
Artist Statement:
Nadège Grebmeier Forget's art practice provokes reflection on the act of looking as a form of implicit consumption, as well as the power dynamics within which the gaze operates. Her work is characterized by a preoccupation with re-appropriation, actively exploring the role of mediation on identity performance, construction and fiction on display. Circulating within the visual and live arts communities, she has participated in numerous events, festivals, panels, residencies and exhibitions in Canada, the USA and Europe. Vulnerable, intimate, baroque and decadent, she serves discomfort.
www.nadege-grebmeier-forget.com
June 26th, 2015 § 0 comments § permalink
Galerie Hugues Charbonneau opens the summer season with a group exhibition bringing together the work of gallery artists, Trevor Gould, Jean-Benoit Pouliot and Julie Trudel, as well as invited artists Maryse Goudreau and Lucie Robert. The works exhibited in Écrans all explore the concept of 'the screen,'whether it be through pictoral, historical, physical or political means.
Screens provide a paradox – they are simultaneously capable of being both revealing and concealing. This duality which constructs and conditions our gaze, expresses the inevitable incompleteness of the images that surround us as they evoke what is left out and what underwrites them. The screen then becomes an aesthetic, political and philosophical device, that allows us to analyze and understand the world we live in. It mobilizes ideas around interpretation or fractured narratives as it nourishes a broader understanding of our relationship with the immaterial, the fleeting.
A conduit for art straddling material and media, the screen can be understood as a physical or abstract support, but can also be seen as a historical and cultural construction, as a body-image norm-establishing weapon, as iconographic and conceptual foliation…Finally, the idea of the screen refers to a whole archeology of images and to a history of ideas.
May 24th, 2014 § 0 comments § permalink