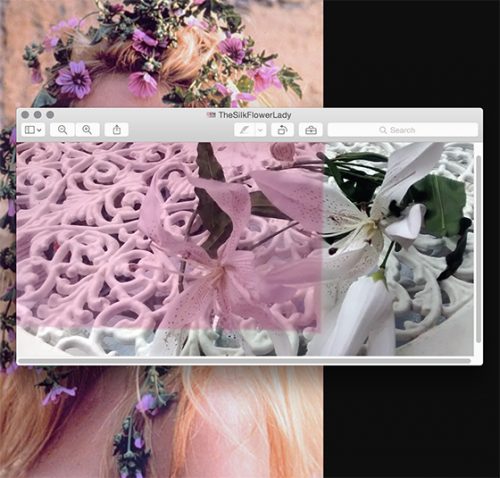 As part of our summer program "8 artists: 8 situations", Galerie Hugues Charbonneau is delighted to grant carte blanche to the performance artist Nadège Grebmeier Forget. For a period of 24 hours only, the artist will occupy our gallery space to produce a series of interventions, images and exclusive videos for our Instagram account. From midnight July 28th to midnight July 29th 2017, follow this intensive thread via the hashtag
Artist Statement:
Nadège Grebmeier Forget's art practice provokes reflection on the act of looking as a form of implicit consumption, as well as the power dynamics within which the gaze operates. Her work is characterized by a preoccupation with re-appropriation, actively exploring the role of mediation on identity performance, construction and fiction on display. Circulating within the visual and live arts communities, she has participated in numerous events, festivals, panels, residencies and exhibitions in Canada, the USA and Europe. Vulnerable, intimate, baroque and decadent, she serves discomfort.
www.nadege-grebmeier-forget.com
July 7th, 2017 § 0 comments § permalink
Les 5 et 6 juillet 2017, l'artiste Guillaume Adjutor Provost prendra le contrôle du compte Instagram de la Galerie Hugues Charbonneau où il présentera une série d'images en lien avec sa pratique artistique. Cette intervention d'une durée de 48 heures à lieu dans le cadre de notre programmation estivale « 8 artistes : 8 situations ». Toutes les publications d'Adjutor Provost seront visibles à l'aide du hashtag :
#guillaumeadjutorprovosttakeover
Au sujet de Guillaume Adjutor Provost  
À travers un certain indéterminisme des formes, la production de Guillaume Adjutor Provost sonde les manifestations de l'inconscient, la notion d'usage et la construction d'idéaux. Plus spécifiquement, il est question de la périphérie de ce qui fait histoire: la contre-culture, les archives personnelles, le vernaculaire, la science-fiction et les approches psychanalytiques.
Guillaume Adjutor Provost (n. 1987) vit et travaille à Montréal où il a complété un doctorat en étude et pratique des arts à l'UQAM en 2016. Ses recherches portent sur la notion d'art commissarial, à savoir l'utilisation d'approches commissariales comme mode de création. Le travail de Guillaume Adjutor Provost a été diffusé lors d'expositions solos et collectives au Canada, en France, en Allemagne, en Autriche, en Belgique et en Suisse. Parallèlement, sa pratique a été soulignée par l'attribution de la bourse Jean-Claude Rochefort et du prix Claudine et Stephen Bronfman en art contemporain.