The Exhibition
For her third solo exhibition at the gallery, Julie Trudel presents a series of new tridimensional paintings, continuing her previous exploration of color in transparency. It was during a residency in Berlin in 2015 that she first discovered a model of fluorescent plexiglas of which the borders throw light. All while keeping the constraint she imposed on herself in 2012 to paint exclusively in black and white, it's through the support that she has reintroduced primary colours into her work.
The geometric compositions of the paintings blend matter to light to show color. Veils of translucent acrylic paint subtly change the shade of the panels and their level of transparency. Trudel attains this result by means of a rigorous artisanal method, discovered through experimental trials on plastic. The support is successively cut, polished, assembled, painted and thermoformed to create folds at precise angles. Through these interventions, Trudel is able to liberate the Plexiglas of its semiotic boundaries heavily associated with industrial plasticity, to bring it into the pictorial field. The result generates a visual complexity that reflects our era of omnipresent screens.
Artist Statement
As an abstract painter, Julie Trudel engages with the properties of paint through simple work processes that take shape through the self-imposed limitations she establishes at the start of each new project. She positions herself within the realm of reflective and conceptual painting that focuses on the making of the painting and investigates painting itself. Her research goes beyond the question of painting as coloured matter; it extends to painting as a practice and as a discipline. Her works give new currency to traditional issues of abstract painting through works that seek to renew its technical aspects – as much through its medium and its support as through its hanging. 
About Julie Trudel
She holds a BA, a BFA and an MFA from UQAM and has exhibited across Canada, Europe and the United States including recent solo exhibition at NARS Foundation, Brooklyn (2018), the group exhibition Entangled: Two Views on Contemporary Canadian Painting at the Vancouver Art Gallery (2017) and The Painting Project at Galerie de l'UQAM (2013). In addition to being awarded numerous research and creation grants as well as artist residencies across Canada and abroad, Trudel was a two-time finalist in the RBC Canadian Painting Competition (2011, 2012), and winner of the Joseph Plaskett Award in painting (2013). She is a Professor at UQAM in Montreal, where she lives and work.
The artist would like to warmly thank l'École des arts visuels et médiatiques and the Faculté des arts of UQAM, the Canada Council for the Arts and the Joseph Plaskett Foundation for the financial support of this project. She would like to highlight the precious and tireless contribution of her skilful, intelligent and reliable studio assistant Éloïse Carrier. The technical support of David Allard Martin, Mario Baillargeon, Danny Glaude, Olivier Heaps-Drolet, Ianick Raymond and Jean Talbot were also essential to realizing this body of work.
June 20th, 2018 § 0 comments § permalink
March 1st, 2018 § 0 comments § permalink
Opening on Wednesday, March 14 from 5pm to 7pm. Artist in attendance.
Galerie Hugues Charbonneau is delighted to present Introduction an exhibition by Guillaume Adjutor Provost. The artist invites you to this articulation of selected works from his exhibitions Matériellement rien, potentiellement tout (Diagonale, 2017), Providence (Association des travailleurs grecs du Québec / Clark / La SERRE, 2017) and Bonne Fortune (Clark, 2016). Through a re-exhibition of his body of work, the artist proposes a discovery, with him, of the milestones of his art practice. Given that this is the first time in his career that he is represented by a gallery, he is seizing the opportunity to explore the reference points of his artistic language. It is in view of this that he chose to use the exhibition space as a post-production site.
This retrospective exhibition presents the mainlines of Guillaume Adjutor Provost's practice: referentiality, curatorial approaches, textuality, archival and photographic languages, psychedelic manifestations. Guided by an attitude of conceptual materialism, the artist's practice inherently reveals zones of immaterial reflections buttressed by the physical object. Through their thoughts and interactions, viewers actively contribute to defining the artist's language. With Introduction, the encounter with iconographic works by Guillaume Adjutor thus becomes the site of a truly fertile analysis.
About Guillaume Adjutor Provost   
Lives and works in Montreal where he completed a doctorate in art and research at UQAM in 2017. Guillaume Adjutor Provost has received grants from the Conseil des Arts et des Lettres du Québec, the Canada Council for the Art, the OJIQ and the Sodec. His work has been shown in solo and group exhibitions in Canada, France, Germany, Belgium, Catalonia and Switzerland. In parallel, his practice has been highlighted through the Jean-Claude Rochefort award and the Claudine and Stephen Bronfman Fellowship in Contemporary Art. Since autumn 2016, he has been provided with a studio at the Fonderie Darling. In 2018, he will present a solo exhibition curated by Chloé Grondeau and Marthe Carrier at the artist centre Bikini in Lyon, participate in the exhibition … Move or be Moved by Something Rather than Oneself at Critical Distance (Toronto) curated by Florence-Agathe Dubé-Moreau and Maude Johnson, and carry out a research residency at Fondation Rupert in Vilnius, Lithuania.
August 31st, 2017 § 0 comments § permalink
As part of MOMENTA | Biennale de l'image
Group exhibition by the artists Maria Hupfield, Chloë Lum and Yannick Desranleau
Opening reception: September 9, from 3 PM to 5 PM, artists in attendance
At Galerie Hugues Charbonneau
On the occasion of MOMENTA | Biennale de l'image, the new designation of Mois de la Photo à Montréal, Galerie Hugues Charbonneau is delighted to present the group exhibition Performance via la camera / Performance via the camera. Ami Barak, the guest curator for the 2017 biennale edition, has chosen to explore the status of the still or moving image by way of the question: What does the image stand for? According to him, the ubiquity of new media in everyday life contributes to blur the notion of photography as a witness of the real since it is now being fantasized more than ever by its author.
As a satellite MOMENTA exhibition venue, it seemed quite a propos to present the works/banners by Maria Hupfield and the duo Chloë Lum and Yannick Desranleau, because they explore questions pertaining to the processing of the contemporary image in a singular manner. More specifically, the banners resulting from their performances do not translate a documentary type photography, but rather an aesthetics developed in a premeditated day via the camera. In this case, the visual language is foregrounded both through the retouching of photos and the display of elements that trigger thought.
It is in this sense that Hupfield digitally reconstructs a mirror effect within the image in which Waaschign and Portal are played out. The goal of this optical function is to highlight the idea of an intergenerational tribute inherent in the artist's works. I really / I want / Time for / A lie, produced by Lum and Desranleau during a stay in Qatar, strategically stages portraits and manuscripts so as to bring about an effect of presence and absence recounting the essential concepts pertaining to the local pictorial traditions.
The works by Hupfield, Lum and Desranleau suggest orchestrated images that recall, in some regards, the constructed character of a commonplace publicity banner. Designed to resist changing weather conditions and to be visible from afar, the banner however relinquishes some of its original functions within an exhibition context. Those that are presented in the gallery literally overload the space and set off an immersive effect in this site.
August 9th, 2017 § 0 comments § permalink
Opening reception on August 16th from 5pm to 7pm with the artist in attendance
At Galerie Hugues Charbonneau
With the kind collaboration Art45 gallery
By modifying algorithms and training scenarios, what will the network synthesize?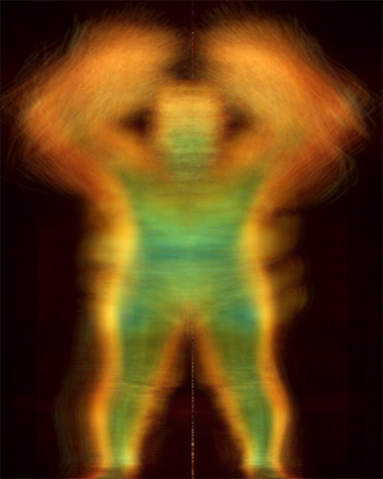 Using a state-of-the-art technique – a generative adversarial network (itself an interesting turn of phrase), a neural network has been trained to generate full body portraits that are learned from TSA three dimensional scans. The mongrel images created are not of specific persons but are 'hallucinated' by the network, through which the 'learning' process is revealed. The training dataset is from the very same scans made every time a person enters an airport terminal in the United States and several other countries. These images were released by the TSA to the public in the hope that they can develop an algorithm to automatically detect 'threats'.  On display here is the system as it learns to create images in an awkward loop of a machine being taught to imitate the images that are gathered from the biometric data.
Matthew Biederman
About Matthew Biederman
Matthew Biederman (b. 1972, Chicago Heights, IL, USA) lives and works in Montreal. He was the recipient of the Bay Area Artist Award in Video by New Langton Arts in 1999, First Place in the Visual Arts category of Slovenia's Break21 festival. He has since co-founded the Arctic Perspective Initiative, with Marko Peljhan, in 2007, a non-profit, international group of individuals and organizations, whose goal is to promote the creation of open authoring, communications and dissemination infrastructures for the circumpolar region.
Biederman works have been exhibited in the US, South America, Europe and Japan, in a variety of festivals and venues such as 7 ATA Festival Internacional (Lima), the 11th Lyon Bienniale, the 2011 Quebec Trienniale, 2014 Montreal Bienniale (Musee des Arts Contemporain), Bienniale of Digital Art (BIAN, Montreal), Artissima (Turin, IT) and Moscow Biennale, among others. As a film and video maker, his works have been included in the FILE festival (Sao Paulo), New Forms Festival (Vancouver), the Edinburgh Fringe Festival, Paris/Berlin International Meetings, and the Chicago Underground Film Festival. His public works have been shown at the ZeroOne2006 Festival (San Jose US), the SCAPE Biennial (New Zealand), notably.

Biederman is currently represented by Art45.
October 6th, 2015 § 0 comments § permalink
Vernissage: October 10 from 3 to 5pm. The artist will be present.
Stay Golden
Galerie Hugues Charbonneau is pleased to welcome Maria Hupfield for her second solo exhibition at the gallery. Based on her performance titled Jiimaan, which took place in Venice in May 2015, Stay Golden presents a new collection of gold sculptures, a life-size grey felt canoe, and a two-channel video.
Maria Hupfield's installations, much like her performances, employ various strategies for occupying space. The artist is interested in how the charged identity of sites can impact our behaviour, but also how they can define our identity or change our perception of things. How do we appropriate a new place for ourselves? How do we activate the places that surround us? Can these be a source of empowerment or of communion with the past?
Similarly, material culture and the symbolic or emotional value we imbue certain objects with, is at the core of her research. In the gallery, public memory is superimposed on the artist's own, through objects in her Trophy Wall, an assemblage of grey felt or gold fabric sculptures; relics and artefacts of one or many previous performances. This commemorative wall suggests both a celebration and a laying to rest of these now "museum-ified" objects.
Hupfield's hand-made nine-foot canoe is the central element of the Jiimaan performance, which the artist enacted as part of the Ga ni tha exhibition in the Campo dei Gesuiti in Venice. An eponymous two-channel video retraces the different stages of this intervention: over three consecutive days, Hupfield performed before the public each evening, then recreated the previous night's performance the following morning, alone and from memory.
This piece reveals key concepts in the artist's work, namely proficiency, cultural memory, and the body's presence. She proposes a meeting between nations and their history through the Canadian and Anishinaabe traditions of birch bark canoe building, paralleling this with the fabrication of gondolas by Venetian artisans. Moreover, the participatory nature of Jiimaan's public performances makes direct reference to Anishinaabe oral traditions and Hupfield's desire to create memories through shared human experience.
Maria Hupfield
Maria Hupfield's work extends through performance, installation, sculpture, video, photography, and collage. Over the past ten years, numerous institutions throughout Canada, the US, and Europe have presented her work and performances in solo and group exhibitions, namely the North American Native Museum, Zurich (2014), the Musée d'art contemporain de Montréal (2014), the Smithsonian's National Museum of the American Indian, Washington D.C. (2013), the National Gallery of Canada (2013), the Museum of Art and Design, New York (2012), the Museum of Contemporary Native Arts, Santa Fe (2011), and the McCord Museum, Montréal (2011). Maria Hupfield is a Canadian artist of Anishinaabe (Ojibway) heritage, and a member of the Wasauksing First Nation in Ontario. She lives and works in Brooklyn, New York.
December 21st, 2014 § 0 comments § permalink
Opening: Saturday, January 17 from 3 to 5 PM, artist in attendance
Karen Tam's work revolves around issues relating to the representation of Asia in America and Europe through art, literature, media and consumer goods. She questions this slightly distorted Orient: an Orient tailor-made to the taste of the Western market.
Through appropriation and subversive strategies, Tam meticulously reproduces antiques, ornaments, traditional Chinese cutouts, typical interiors of Chinese restaurants and even opium dens. Yet, the artist maintains a subtle distinction between the original source of inspiration and her own interpretation from which emerges a clear critique that activates cultural and identity issues relating to racism and the globalization of trade.
Ironically, Tam's sculptures and installations appropriate and magnify the aesthetics of this China fantasized by and for the West, through cutouts whose traditional iconography has been subverted, antique porcelain made from papier-mâché, and decorative lanterns out of cardboard.
The cultural overlap that these contemporary chinoiseries reflect triggers again the history of trade routes between 'East' and 'West'; it recalls the Canadian government's exclusionary policies towards the Chinese; it deals with the imaging of cultures through contact and stereotypes; just as it updates the question of authenticity in contemporary art using a cultural studies framework.
The exhibition Karen Tam. Made in Britain marks the return of the artist to Montreal, where her last solo show took place in 2005. The works presented for this occasion were made during the time she lived in London while completing her doctoral studies at Goldsmiths.
Karen Tam lives and works in Montreal, Britain and the United States. She holds a MFA from The School of the Art Institute of Chicago and a PhD from the Centre for Cultural Studies at Goldsmiths, University of London. Since the 2000s, her work has been featured in exhibitions in Canada, Ireland, UK, Austria, United States, and China. She has been the recipient of multiple fellowships and grants and was on the longlist for the prestigious 2010 Sobey Art Award.
www.karentam.ca
November 7th, 2014 § 0 comments § permalink
For almost thirty years, Alain Paiement has been a key figure in contemporary Canadian photography. He researches the possibilities of how photography unfolds through time and space and translates this into images. Throughout his career, he has represented the movement of the world, at a micro level, mapping architectures with aerial views, and at a macro level, in representationsof solar and lunar cycles.
He now turns his attention to the depths of the ocean to capture videos of the hypnotic ballet of the moon jellyfish, and pieces of ice adrift on the Saint-Lawrence River. Here, Alain Paiement reaffirms the rigorous processes that characterize his approach as he plays with the images' construction and the viewer's perception. He reanimates series of still photographs or multiple perspectives of the same subject, juxtaposing these representations, but also altering their symmetry, synchrony, movement, and symbolism.
The manipulated images emerge from black backgrounds. It is difficult to determine whether they are photographs or moving images. They are blurring our perception of time, which seems distended and unstructured.
This important solo exhibition by Alain Paiement will be presented in two parts. The second instalment will take place in 2015.
The artist would like to thank Guilhem Molinier and the Fond de recherche du Québec – Société et culture.
Alain Paiement's work has been presented in numerous exhibitions since the 1980s throughout Canada and the United States, but also in Europe, Latin America, and Asia. He has received several prizes in contemporary photography, and has produced many public artworks in Québec, namely for the new CHUM in Montréal (2013). His work is included in major institutional and private collections in Canada, the US, Spain, and Belgium.
May 24th, 2014 § 0 comments § permalink
The artist Karen Tam would like to acknowledge the support of the Canada Council for the Arts.
May 25th, 2013 § Comments Off on Marie-Claude Bouthillier : Mégalithes § permalink