The Exhibition
For her third solo exhibition at the gallery, Julie Trudel presents a series of new tridimensional paintings, continuing her previous exploration of color in transparency. It was during a residency in Berlin in 2015 that she first discovered a model of fluorescent plexiglas of which the borders throw light. All while keeping the constraint she imposed on herself in 2012 to paint exclusively in black and white, it's through the support that she has reintroduced primary colours into her work.
The geometric compositions of the paintings blend matter to light to show color. Veils of translucent acrylic paint subtly change the shade of the panels and their level of transparency. Trudel attains this result by means of a rigorous artisanal method, discovered through experimental trials on plastic. The support is successively cut, polished, assembled, painted and thermoformed to create folds at precise angles. Through these interventions, Trudel is able to liberate the Plexiglas of its semiotic boundaries heavily associated with industrial plasticity, to bring it into the pictorial field. The result generates a visual complexity that reflects our era of omnipresent screens.
Artist Statement
As an abstract painter, Julie Trudel engages with the properties of paint through simple work processes that take shape through the self-imposed limitations she establishes at the start of each new project. She positions herself within the realm of reflective and conceptual painting that focuses on the making of the painting and investigates painting itself. Her research goes beyond the question of painting as coloured matter; it extends to painting as a practice and as a discipline. Her works give new currency to traditional issues of abstract painting through works that seek to renew its technical aspects – as much through its medium and its support as through its hanging. 
About Julie Trudel
She holds a BA, a BFA and an MFA from UQAM and has exhibited across Canada, Europe and the United States including recent solo exhibition at NARS Foundation, Brooklyn (2018), the group exhibition Entangled: Two Views on Contemporary Canadian Painting at the Vancouver Art Gallery (2017) and The Painting Project at Galerie de l'UQAM (2013). In addition to being awarded numerous research and creation grants as well as artist residencies across Canada and abroad, Trudel was a two-time finalist in the RBC Canadian Painting Competition (2011, 2012), and winner of the Joseph Plaskett Award in painting (2013). She is a Professor at UQAM in Montreal, where she lives and work.
The artist would like to warmly thank l'École des arts visuels et médiatiques and the Faculté des arts of UQAM, the Canada Council for the Arts and the Joseph Plaskett Foundation for the financial support of this project. She would like to highlight the precious and tireless contribution of her skilful, intelligent and reliable studio assistant Éloïse Carrier. The technical support of David Allard Martin, Mario Baillargeon, Danny Glaude, Olivier Heaps-Drolet, Ianick Raymond and Jean Talbot were also essential to realizing this body of work.
December 28th, 2018 § 0 comments § permalink
Julie Trudel will further explore the project exhibited last fall at the NARS Foundation in Brooklyn. Opening January 16.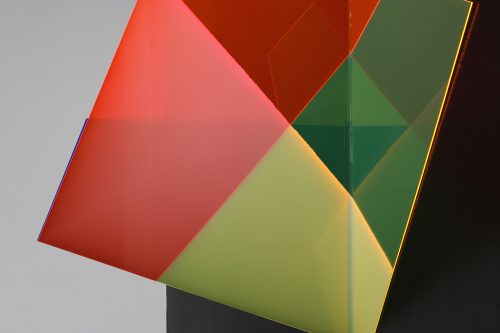 April 6th, 2016 § 0 comments § permalink
Galerie Hugues Charbonneau is pleased to present Julie Trudel's second solo exhibition, featuring the latest development in her work with the materiality of colour. This series of approximately 10 three-dimensional paintings was created in 2015 during various artist residencies, and was presented in part at the Anna Leonowens Gallery at NSCAD University last fall.
With Bone Black and Titanium White—Transparency and Distortion, Julie Trudel continues to work with the self-imposed chromatic constraint she adopted in 2012, namely the use of pure black and white pigments which she simply dilutes in large amounts of clear acrylic medium. This time, however, she has innovated her approach by adding clear acrylic supports (also known as Plexiglas). Technical considerations at the end of 2014 led her to choose this material as a way to explore its material properties – transparency, reflection, reversibility and plasticity – in conjunction with her fascination for the translucence and opacity of paint. While experimenting with various types of plastics, light emerged as a central component and the paintings were subsequently pulled out from the wall to better enable the interplay of light and surface.
Each piece is created on a very thin sheet of Plexiglas painted on one side before being bent into three sections through thermoforming. Two sections are painted in flat black tints, giving them a mirror-like quality, or in white, which reflects light. The third section is clear and covered in a pattern of translucent dots that seem to break away from the surface, producing the illusion of movement and depth. The folding of the two panels on either side of the central one produces a complex interplay of reflections between the three sections, while the concave shape it creates captures light and multiplies the effect of transparency or distortion within the cluster of dots. Trudel's choice of Plexiglas has evidently deepened her research into the materiality of colour and light, thereby opening new possibilities within the pictorial field. Moreover, their presentation in the gallery allows viewers to experience the near-sculptural nature of her paintings as they extend into the exhibition space, and to witness how dramatically their appearance shifts depending on the angle of view.
Julie Trudel
Over the past five years, her work has been presented in France, in Germany, Japan, United-States, and throughout Canada. Trudel was a two-time finalist in the RBC Canadian Painting Competition (2011, 2012), and winner of the Joseph Plaskett Award in painting (2013). Her work is included in several collections, including the Collection Prêt d'œuvres d'art of the Musée national des beaux-arts du Québec; the Ville de Montréal; RBC Bank and TD Bank. She lives and works in Montréal.
The artist would like to warmly thank the Joseph Plaskett Foundation, the Triangle Arts Association, NSCAD University and the Robert Pope Foundation, who supported the development of this new project. She would also like to acknowledge the contribution of her skilful and reliable studio assistants, Katie Lesser and Arkadi Lavoie Lachapelle, as well as Donald Thompson, Martin Schop and Atelier Clark, who helped resolve many technical challenges.
June 26th, 2015 § 0 comments § permalink
Galerie Hugues Charbonneau opens the summer season with a group exhibition bringing together the work of gallery artists, Trevor Gould, Jean-Benoit Pouliot and Julie Trudel, as well as invited artists Maryse Goudreau and Lucie Robert. The works exhibited in Écrans all explore the concept of 'the screen,'whether it be through pictoral, historical, physical or political means.
Screens provide a paradox – they are simultaneously capable of being both revealing and concealing. This duality which constructs and conditions our gaze, expresses the inevitable incompleteness of the images that surround us as they evoke what is left out and what underwrites them. The screen then becomes an aesthetic, political and philosophical device, that allows us to analyze and understand the world we live in. It mobilizes ideas around interpretation or fractured narratives as it nourishes a broader understanding of our relationship with the immaterial, the fleeting.
A conduit for art straddling material and media, the screen can be understood as a physical or abstract support, but can also be seen as a historical and cultural construction, as a body-image norm-establishing weapon, as iconographic and conceptual foliation…Finally, the idea of the screen refers to a whole archeology of images and to a history of ideas.
April 6th, 2014 § 0 comments § permalink
October 17th, 2013 § 0 comments § permalink
Metro Toronto Convention Centre
July 20th, 2013 § 0 comments § permalink
Announcement by The 
Joseph Plaskett Foundation
July 19, 2013
The 2013 Joseph Plaskett Award Winner is Julie Trudel of Montreal

photo: Jean-Christophe Lett                                                                                       photo: Guy L'heureux
The Joseph Plaskett Foundation is pleased to announce that Julie Trudel has been selected as the winner of the $25,000 Joseph Plaskett Award for this year.
In the tenth year of this Award for an outstanding painter to work in Europe, the Plaskett Foundation wishes to congratulate Julie Trudel who received her MFA from University of Quebec at Montréal (UQAM) in 2012. We wish to also thank the expertise of this year's Jury which was based in Vancouver with senior artist's Renée Van Halm, Robert Youds and Ben Reeves, in a process coordinated by Landon Mackenzie on behalf of the Foundation and the RCA.
The jury writes: "Julie Trudel was chosen for her intense and innovative approach to abstraction in painting. In her painting she investigates mechanical colour reproduction systems that she manually applies to variously shaped panels. This results in highly evocative and illusionistic surfaces that remind one of weavings or microscopic photography."
Julie Trudel was formally presented with her Award at the Joseph Plaskett Reception on Saturday June 8, 2013 at the Empress Hotel in Victoria at the Annual General Assembly of the Royal Canadian Academy of Arts now in its 133rd year. She plans to use her award to base herself for a year in Berlin, in 2014. Her work is represented by Galerie Hugues Charbonneau in Montreal.
Artworks by Julie Trudel are currently on display in the exhibition "Point, line, plane, point, line, plane, point, line, plane" until August 8th at Galerie Hugues Charbonneau.
June 27th, 2013 § 1 comment § permalink