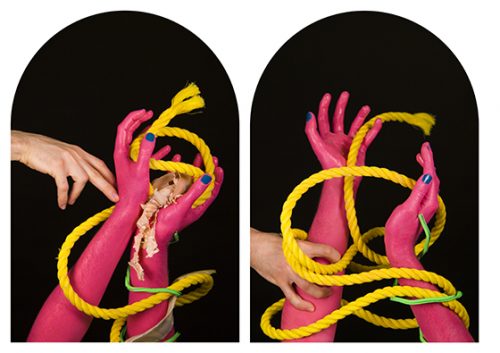 Unveiling of the public installation Laocoön at Théâtre du Nouveau Monde
Presented from August 30 to October 15, 2017
As part of KM3, an itinerary of public art works exhibited throughout the Quartier des Spectacle #km3qds.
LAOCOÖN
Titled Laocoön, a photographic installation by Chloë Lum and Yannick Desranleau evokes the myth of the Trojan priest Laocoön who was put to death by snakes after having warned his people against the Trojan Horse, a bait sent by the Greeks under the guise of an offering by the Greek army. Ordered by the gods Athena and Poseidon, Laocoön's agony opened the way for the entrance of the wooden horse within the walls of the Trojan city and, by the same token, its invasion.
Interwoven with the architectural details of Théâtre du Nouveau Monde, the work of the duo revisits this passage from Virgil's Aeneid. The tale of Laocoön is here read through a logical sequence of images that reveal both white and pink hands, and a yellow rope. Like the protagonists of this myth, these symbols of the body and the snake come to life by way of large-scale photographs presented on the façade of rue St-Urbain. Lum and Desranleau's Laocoön is a also a call to resistance for modern day whistleblowers who are still being persecuted by the authorities whose abuses they denounce.
About Chloë Lum & Yannick Desranleau
Chloë Lum and Yannick Desranleau have participated in many group exhibitions throughout Canada, the United-States, and in Europe, including the University of Texas, Austin (2015); the Center for Books and Paper Arts, Columbia College, Chicago (2015); the Musée d'art contemporain de Montréal (2011); the Kunsthalle Wien, Vienna (2010); the BALTIC Centre for Contemporary Art, Gateshead, England (2009); and at Whitechapel Project Space, London (2007). Their recent solo exhibitions include Circa Art Actuel, Montreal (2017); Khiele Gallery, St. Cloud State University, Minnesota (2016); the Confederation Centre Art Gallery, Charlottetown (2014); YYZ Artists' Outlet, Toronto (2013); and Blackwood Gallery, University of Toronto (2012). Their performances have been presented at the Darling Foundry (2015), and as part of the OFFTA festival (2016). Lum and Desranleau are also known on the international music scene as co-founders of the avant-rock group AIDS Wolf, for whom they also produced award-winning concert posters under the name Séripop.
In 2016, Desranleau was awarded the Claudine and Stephen Bronfman Fellowship in Contemporary Art, and in 2015, the duo was long-listed for the Sobey Art Award. Their work is included in many collections, namely the Victoria and Albert Museum in London; the University of Maryland Art Gallery; the Montreal Museum of Fine Arts; and the BMO collection.
Yannick Desranleau holds an MFA in sculpture from Concordia University in Montreal, and Chloë Lum is an MFA candidate at York University, Toronto. Lum & Desranleau are represented by Galerie Hugues Charbonneau in Montreal, and they currently split their time between Montreal and Toronto.
lum-desranleau.com