Launch of the book Le Renard Vulve / Satan Narval 
Wednesday, July 12 from 5 PM to 7 PM at the bar Le Cheval blanc
809 Ontario est, Montreal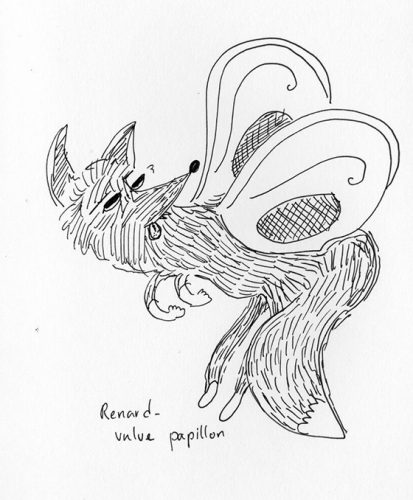 The artist-poet Cynthia Girard-Renard is delighted to announce the launch of her new book titled Le Renard Vulve. Written under the pseudonym Satan Narval, Cynthia Girard-Renard invites you to a feast in which animals are key actors in an erotico-poetic novel that takes place on Mont-Royal.
In this story based on mourning many loses, the narrator and her dog go off in search of the loved one on the Mountain, the birthplace of the plot. On her way, she meets a lesbian BDSM skunk couple, a stripper bat, a pileated woodpecker, a racoon barmaid and many other characters.
Through a series of interspecies sexual adventures and friendships, the narrator, like Alice in Wake-Land, wants you to come along on this delirious trip, reminiscent of a Journey to the End of the Mountain, from which you will not return unscathed. This story will forever change your view of Mont-Royal…
About Cynthia Girard-Renard
Satan Narval alias Cynthia Girard-Renard is a visual artist and poet. Her publications include J'ai percé un trou dans ma tête, Héliotrope, 2010, Le Soleil et l'électron, Tryptique, 2005, La Fureur des wapitis, Lanctôt éditeur, 2000, and Nous lirons du bout des yeux, Écrits des forges 1996. Her latest group exhibition, Les Fleurs animales, was held at l'Écart in Rouyn-Noranda in May 2017. Her upcoming projects include La Main invisible at McClure gallery, Westmount, September 2017 and Les Aventures du Renard Vulve at Galerie Hugues Charbonneau in November 2017. Not to mention her solo exhibition, Fictions sylvestres, at the Musée d'art contemporain de Montréal (2005), Tous les oiseaux sont ici, Kunstlerhaus Bethanien, Berlin (2009), Unicorns and Dictators, Esker Fondation, Calgary (2014) and her upcoming participation in the 2017 Canadian Biennial presented at the National Gallery of Canada.
Summary
Satan Narval, Le Renard Vulve, written and illustrated by Cynthia Girard-Renard, Montreal, 196 p.
Graphic Design: Francine Savard
Book printing: Anteism and BookArt
Price : 25$
The book will be available for online orders: http://anteism.com/shop/renardvulve
As well as at Galerie Hugues Charbonneau, librairie l'Écume des jours and at the bookstore of Galerie Clark, Montréal.