Opening reception on August 16th from 5pm to 7pm with the artist in attendance
At Galerie Hugues Charbonneau
With the kind collaboration Art45 gallery
By modifying algorithms and training scenarios, what will the network synthesize?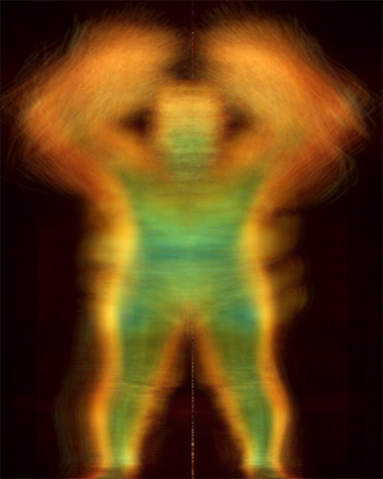 Using a state-of-the-art technique – a generative adversarial network (itself an interesting turn of phrase), a neural network has been trained to generate full body portraits that are learned from TSA three dimensional scans. The mongrel images created are not of specific persons but are 'hallucinated' by the network, through which the 'learning' process is revealed. The training dataset is from the very same scans made every time a person enters an airport terminal in the United States and several other countries. These images were released by the TSA to the public in the hope that they can develop an algorithm to automatically detect 'threats'.  On display here is the system as it learns to create images in an awkward loop of a machine being taught to imitate the images that are gathered from the biometric data.
Matthew Biederman
About Matthew Biederman
Matthew Biederman (b. 1972, Chicago Heights, IL, USA) lives and works in Montreal. He was the recipient of the Bay Area Artist Award in Video by New Langton Arts in 1999, First Place in the Visual Arts category of Slovenia's Break21 festival. He has since co-founded the Arctic Perspective Initiative, with Marko Peljhan, in 2007, a non-profit, international group of individuals and organizations, whose goal is to promote the creation of open authoring, communications and dissemination infrastructures for the circumpolar region.
Biederman works have been exhibited in the US, South America, Europe and Japan, in a variety of festivals and venues such as 7 ATA Festival Internacional (Lima), the 11th Lyon Bienniale, the 2011 Quebec Trienniale, 2014 Montreal Bienniale (Musee des Arts Contemporain), Bienniale of Digital Art (BIAN, Montreal), Artissima (Turin, IT) and Moscow Biennale, among others. As a film and video maker, his works have been included in the FILE festival (Sao Paulo), New Forms Festival (Vancouver), the Edinburgh Fringe Festival, Paris/Berlin International Meetings, and the Chicago Underground Film Festival. His public works have been shown at the ZeroOne2006 Festival (San Jose US), the SCAPE Biennial (New Zealand), notably.

Biederman is currently represented by Art45.
July 30th, 2016 § 0 comments § permalink
To launch the 2016-2017 season, Galerie Hugues Charbonneau is pleased to present its first solo exhibition by Isabelle Hayeur. She will be presenting Desert Shores (Lost America) (2015-2016), a new series documenting the polluted and deserted region of Salton Sea, in the United States. Hayeur has selected five photographs from this vast body of work, as well as a 35-minute video and an album of 60 other photos from the series for on-site consultation.
Salton Sea is a large salt lake located on the San Andreas Fault, in an arid depression in South-western California, 227 feet below sea level. It was accidentally created at the beginning of the last century when the Colorado River overflowed its banks and was contained. In the 1950s and 1960s, it became a very popular attraction, and a paradise for fishing aficionados. Its shores were dotted with numerous hotels, marinas, and yacht clubs. Named Desert Shores, the area underwent significant economic and population growth at this time.
Towards the 1970s, it was observed that the lake's water level was dropping and its salinity rising, in direct relationship with the augmentation of agricultural activity in the surrounding area. Today, this area is deserted and desolate, alluvial deposits saturated with fertilizers and pesticides pollute the water, and algae blooms are decimating fish stocks. Beachside resorts have given way to trailer parks, homes for the poor, the marginalized and Mexican immigrants – a different and less than shining portrait of the United States. For Hayeur, this disenchanted landscape is a mirror image of a lost America, from an era in which everything seemed possible and accessible for all citizens. This area of dire poverty is not unlike others, found all across the United States, a Third World of their own where the most destitute remain, for lack of a better alternative. The works in Desert Shores (Lost America) are fragments of dystopian landscape, modern ruins, dilapidated and graffiti-covered domestic spaces, dried-up fish carcasses and disturbingly coloured bodies of water, summing up a wasteland of human failure at nature's expense.
Isabelle Hayeur   
Isabelle Hayeur's work has been widely shown in many major shows, such as at the Ryerson Image Centre (Toronto) (2016);theMuseo Cultural (Santa Fe) (2016);theToday Art Museum (Beijing) (2015); the New Orleans Museum of Art(2015); the Centre culturel canadien (Paris) (2012); the Akbank Sanat (Istanbul) (2008); the Musée national des beaux-arts du Québec (2007); the Musée d'art contemporain de Montréal (2006); the Neuer Berliner Kunstverein (Berlin) (2005); the Casino Luxembourg Forum d'art contemporain (2005); and the Massachusetts Museum of Contemporary Arts (2004). Her works are to be found in over twenty collections, including those of the National Gallery of Canada, the Fonds national d'art contemporain in Paris, the Art Gallery of Ontario, the Vancouver Art Gallery, theCanadian Museum of Contemporary Photography, the Musée d'art contemporain de Montréal, the Musée national des beaux-arts du Québec, the New Orleans Museum of Art and the Museum of Contemporary Photography in Chicago.
October 6th, 2015 § 0 comments § permalink
Vernissage: October 10 from 3 to 5pm. The artist will be present.
Stay Golden
Galerie Hugues Charbonneau is pleased to welcome Maria Hupfield for her second solo exhibition at the gallery. Based on her performance titled Jiimaan, which took place in Venice in May 2015, Stay Golden presents a new collection of gold sculptures, a life-size grey felt canoe, and a two-channel video.
Maria Hupfield's installations, much like her performances, employ various strategies for occupying space. The artist is interested in how the charged identity of sites can impact our behaviour, but also how they can define our identity or change our perception of things. How do we appropriate a new place for ourselves? How do we activate the places that surround us? Can these be a source of empowerment or of communion with the past?
Similarly, material culture and the symbolic or emotional value we imbue certain objects with, is at the core of her research. In the gallery, public memory is superimposed on the artist's own, through objects in her Trophy Wall, an assemblage of grey felt or gold fabric sculptures; relics and artefacts of one or many previous performances. This commemorative wall suggests both a celebration and a laying to rest of these now "museum-ified" objects.
Hupfield's hand-made nine-foot canoe is the central element of the Jiimaan performance, which the artist enacted as part of the Ga ni tha exhibition in the Campo dei Gesuiti in Venice. An eponymous two-channel video retraces the different stages of this intervention: over three consecutive days, Hupfield performed before the public each evening, then recreated the previous night's performance the following morning, alone and from memory.
This piece reveals key concepts in the artist's work, namely proficiency, cultural memory, and the body's presence. She proposes a meeting between nations and their history through the Canadian and Anishinaabe traditions of birch bark canoe building, paralleling this with the fabrication of gondolas by Venetian artisans. Moreover, the participatory nature of Jiimaan's public performances makes direct reference to Anishinaabe oral traditions and Hupfield's desire to create memories through shared human experience.
Maria Hupfield
Maria Hupfield's work extends through performance, installation, sculpture, video, photography, and collage. Over the past ten years, numerous institutions throughout Canada, the US, and Europe have presented her work and performances in solo and group exhibitions, namely the North American Native Museum, Zurich (2014), the Musée d'art contemporain de Montréal (2014), the Smithsonian's National Museum of the American Indian, Washington D.C. (2013), the National Gallery of Canada (2013), the Museum of Art and Design, New York (2012), the Museum of Contemporary Native Arts, Santa Fe (2011), and the McCord Museum, Montréal (2011). Maria Hupfield is a Canadian artist of Anishinaabe (Ojibway) heritage, and a member of the Wasauksing First Nation in Ontario. She lives and works in Brooklyn, New York.
November 7th, 2014 § 0 comments § permalink
For almost thirty years, Alain Paiement has been a key figure in contemporary Canadian photography. He researches the possibilities of how photography unfolds through time and space and translates this into images. Throughout his career, he has represented the movement of the world, at a micro level, mapping architectures with aerial views, and at a macro level, in representationsof solar and lunar cycles.
He now turns his attention to the depths of the ocean to capture videos of the hypnotic ballet of the moon jellyfish, and pieces of ice adrift on the Saint-Lawrence River. Here, Alain Paiement reaffirms the rigorous processes that characterize his approach as he plays with the images' construction and the viewer's perception. He reanimates series of still photographs or multiple perspectives of the same subject, juxtaposing these representations, but also altering their symmetry, synchrony, movement, and symbolism.
The manipulated images emerge from black backgrounds. It is difficult to determine whether they are photographs or moving images. They are blurring our perception of time, which seems distended and unstructured.
This important solo exhibition by Alain Paiement will be presented in two parts. The second instalment will take place in 2015.
The artist would like to thank Guilhem Molinier and the Fond de recherche du Québec – Société et culture.
Alain Paiement's work has been presented in numerous exhibitions since the 1980s throughout Canada and the United States, but also in Europe, Latin America, and Asia. He has received several prizes in contemporary photography, and has produced many public artworks in Québec, namely for the new CHUM in Montréal (2013). His work is included in major institutional and private collections in Canada, the US, Spain, and Belgium.