Opening reception March 4, 2020 at 5 pm
Artist in attendance
Galerie Hugues Charbonneau is delighted to present Déplacements, Jean-Benoit Pouliot's fourth solo exhibition at the gallery.
One Exhibition, Several Activations
Taking a great interest in issues pertaining to the artwork's reception in the digital era, Jean-Benoit Pouliot is proposing a new body of work in which he digitizes various abstract paintings by applying a series of gestures and manipulations to create visual distortions. The title Déplacements (Displacements) refers to the gestures the artist carries out while he is digitizing the works – such as rotate and move, to name but these examples. In this case, it is not the painting itself that is made visible, but rather the mediatisation process the artist subjects it to. The result produces slippages, torsions, glitches and a pixelization of the pictorial material.
For several years, Jean-Benoit has also been exploring new, more performance-oriented avenues that have allowed him to extend his reflections about the mediatisation of works into physical space. The exhibition hence also comprises the activation of a series of close to two hundred paintings. Though these paintings are visible only as slices in their gallery mounted state, the artist carries out a number of actions at night that enables them to come to life. Since these activations take place while the gallery is closed to the public, they are documented and made available exclusively on social media. Pouliot approaches this performance section in resonance with the two main themes: "the painting in space" and "the painting and the body." Guided by a desire to constantly alter the physical limits of the work, these activations make it possible for the artist, to once again, go beyond painting itself.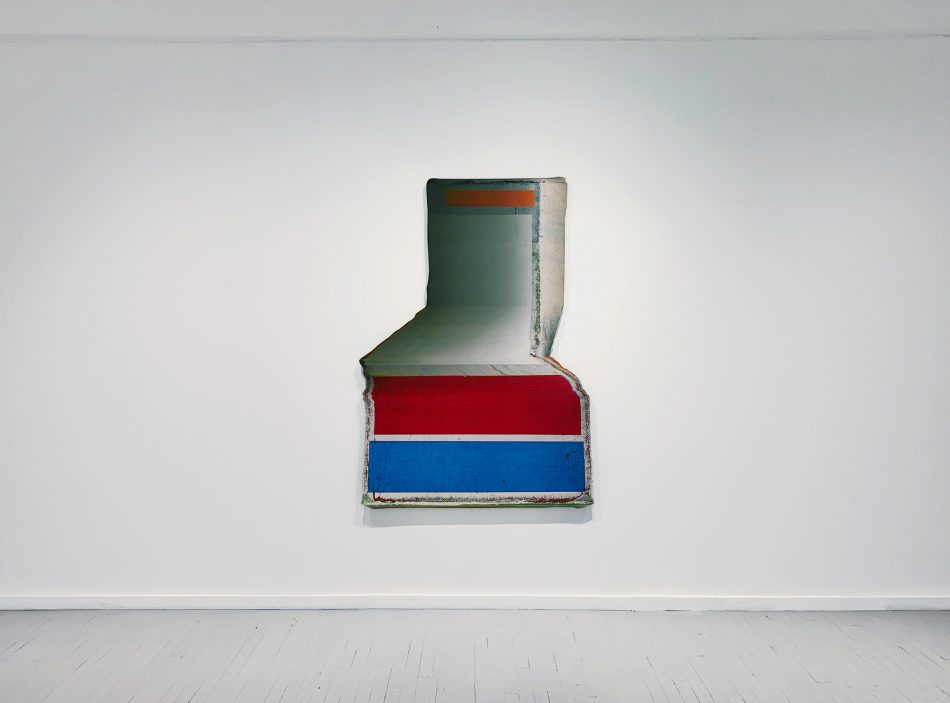 Artist Statement
Jean-Benoit Pouliot's work is structured around issues linked to composition and the reading and mediatisation of the image in painting. Through an exploration of the modalities of the artwork's reception in the digital era, the artist takes an interest in the painted surface. Jean-Benoit Pouliot's work reveals the manner in which the omnipresence of screens now conditions our very experience of artworks. Characteristically abstract, his works come across as superimpositions of planes and networks in which the thin layers of accumulated material suggest a depth and generate immaterial spaces that appear to stretch beyond the painting's physical limits – which are altered and transgressed.
Biography
Self-taught, Jean-Benoit Pouliot (born in 1975) began his artistic career at the beginning of the 2000s by way of engraving. From 2004 to 2008, he worked as part of the duo L'œil de verre, which used light as a raw material, and he collaborated with various figures of the current music scene. Painting began to take on a prominent place in his practice as of 2008, and since then, Pouliot has participated in several group exhibitions in Quebec and New York. His work has also been show during solo exhibitions, notably at Galerie Hugues Charbonneau (2017, 2014 and 2012), at Galerie d'art d'Outremont (2011) and at the Cirque du Soleil headquarters (2006). Among his group exhibitions, the most noteworthy is "Grâce au dessin", presented at Nan Rae Gallery (Woodbury University, Burbank, California). Pouliot also took part in the public art event Aires libres in Montreal (2014), the Peinture Extrême event in Montreal (2013 and 2010), as well as the Mois Multi 10: festival international d'arts multidisciplinaires et numériques in Quebec City (2009). His works are part of many private and institutional collections: Musée national des beaux-arts du Québec, Bibliothèque et Archives nationales du Québec, Loto-Québec, Banque Nationale, Banque de Montréal, Banque TD, Mouvement Desjardins, BLG and Collection du Cirque du Soleil, among others. Jean-Benoit Pouliot lives and works in Montreal.