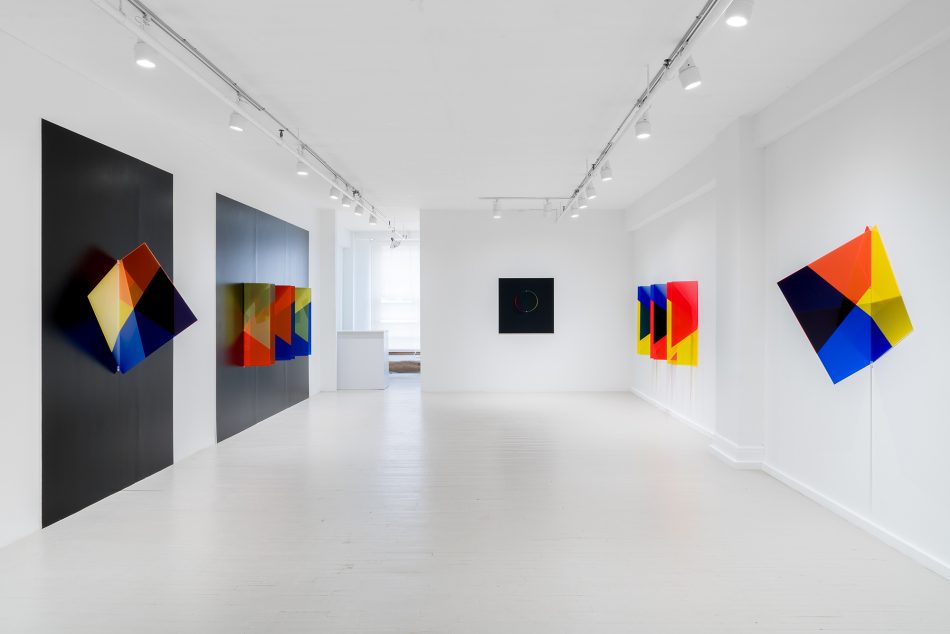 The Exhibition
For her third solo exhibition at the gallery, Julie Trudel presents a series of new tridimensional paintings, continuing her previous exploration of color in transparency. It was during a residency in Berlin in 2015 that she first discovered a model of fluorescent plexiglas of which the borders throw light. All while keeping the constraint she imposed on herself in 2012 to paint exclusively in black and white, it's through the support that she has reintroduced primary colours into her work.
The geometric compositions of the paintings blend matter to light to show color. Veils of translucent acrylic paint subtly change the shade of the panels and their level of transparency. Trudel attains this result by means of a rigorous artisanal method, discovered through experimental trials on plastic. The support is successively cut, polished, assembled, painted and thermoformed to create folds at precise angles. Through these interventions, Trudel is able to liberate the Plexiglas of its semiotic boundaries heavily associated with industrial plasticity, to bring it into the pictorial field. The result generates a visual complexity that reflects our era of omnipresent screens.
Artist Statement
As an abstract painter, Julie Trudel engages with the properties of paint through simple work processes that take shape through the self-imposed limitations she establishes at the start of each new project. She positions herself within the realm of reflective and conceptual painting that focuses on the making of the painting and investigates painting itself. Her research goes beyond the question of painting as coloured matter; it extends to painting as a practice and as a discipline. Her works give new currency to traditional issues of abstract painting through works that seek to renew its technical aspects – as much through its medium and its support as through its hanging. 
About Julie Trudel
She holds a BA, a BFA and an MFA from UQAM and has exhibited across Canada, Europe and the United States including recent solo exhibition at NARS Foundation, Brooklyn (2018), the group exhibition Entangled: Two Views on Contemporary Canadian Painting at the Vancouver Art Gallery (2017) and The Painting Project at Galerie de l'UQAM (2013). In addition to being awarded numerous research and creation grants as well as artist residencies across Canada and abroad, Trudel was a two-time finalist in the RBC Canadian Painting Competition (2011, 2012), and winner of the Joseph Plaskett Award in painting (2013). She is a Professor at UQAM in Montreal, where she lives and work.
The artist would like to warmly thank l'École des arts visuels et médiatiques and the Faculté des arts of UQAM, the Canada Council for the Arts and the Joseph Plaskett Foundation for the financial support of this project. She would like to highlight the precious and tireless contribution of her skilful, intelligent and reliable studio assistant Éloïse Carrier. The technical support of David Allard Martin, Mario Baillargeon, Danny Glaude, Olivier Heaps-Drolet, Ianick Raymond and Jean Talbot were also essential to realizing this body of work.