Performances each evening at 7 p.m.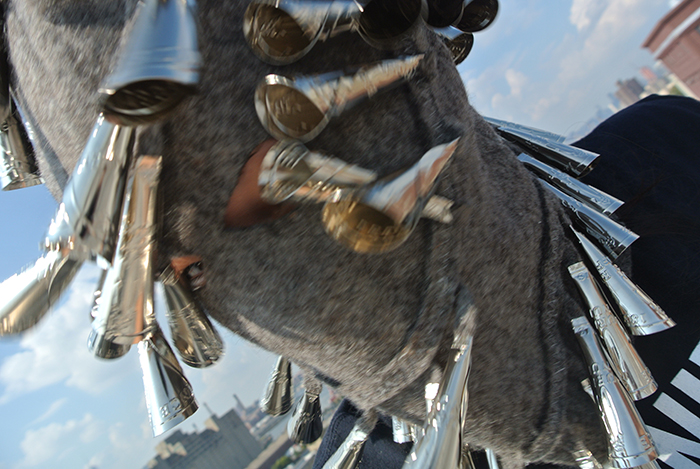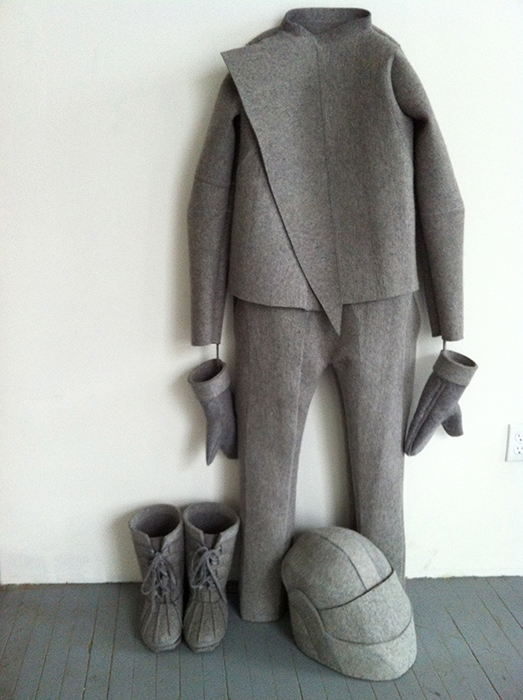 For her first project at Galerie Hugues Charbonneau, Brooklyn-based, Canadian artist Maria Hupfield has invited local artists to collaborate in evening performances open to the public. As anchor and starting part for the project, Hupfield sees this gesture as an introduction to a significant part of her practice, and a way to establish links within the Montreal community.
Hupfield's own performance practice has developed around activating spaces in ways that reference Anishnaabe oral tradition and feminist performance history, as well as the work of Jimmie Durham and Joseph Beuys. It is also characterized by the creation of a detailed series of sculpture-accessories—often worn or carried on the body—which she deploys in performances.
A selection of these objects will be installed in the gallery by curator Rhonda Meier, in addition to residual elements from the evening performances. The gallery will be open to the public from 12 to 5 p.m.
Collaborative performances with Montreal guests, Scott Benesiinaabandan, Emma-Kate Guimond, Emilie Monnet, and karen elaine spencer will be workshopped in the gallery each day, and begin every evening at 7 pm. (free and open to the public).
Artist Biographies
Based in Brooklyn, Maria Hupfield is of Canadian Anishnaabe (Ojibway) heritage and a member of Wasauksing First Nation, Ontario.  An MFA graduate of York University, she earned a BA in Art and Art History from the University of Toronto.  Maria was selected for the 2013 winter studio residency, Wave Hill NY, and the 2012 Artist Leadership Program, Smithsonian Washington DC.  She has shown at the Museum of Arts and Design New York, The Vancouver Art Gallery, Toronto Power Plant, 7a*11d International Performance Festival; her work is also in the current traveling exhibition Beat Nation.   Her performance 'An Artist Tour Guide' is commissioned by the Smithsonian National Museum of the American Indian NY in response to the exhibition Before and After the Horizon:  Anishnaabe Artists of the Great Lakes, to travel to the AGO.  She has recently been shortlisted for the Joan Mitchell award.
Scott Benesiinaabandan is an Anishinaabe artist working primarily in photography, printmaking and video. He has been awarded international residencies in Australia, Northern Ireland, and has worked with Obx Lab for experimental media at Concordia University/Hexagram. http://benesiinaabandan.com/
With a BFA in contemporary dance, Emma-Kate Guimond's work melds drawing, video, text and performance. Her performance installations have been exhibited throughout Montreal, and recently as part of Toronto's NXNE Art, and Edmonton's Visualeyez Festival. www.emmakateguimond.wordpress.com
Interdisciplinary artist Emilie Monnet is an award-winning actress, director, singer, performance and media artist whose work is grounded in years of social activism. In 2011, she founded Onishka productions to promote performance work, encourage both local and international collaborations, and continue to write and tell stories, both personal and collective. www.onishka.org
karen elaine spencer's work oscillates between studio practice, work in the street, curation, and web disseminations. In 2012, she received La Centrale's prix powerhouse, recognizing her significant, sustained contribution to Montreal's cultural milieu. She has exhibited across Canada, the U.S., and in Europe. http://likewritingwithwater.wordpress.com/