Public artwork KA-POW! on view at Victoria Square
As part of the Montreal 375th anniversary donation project "Promenade Fleuve-Montagne" #PromenadeFM.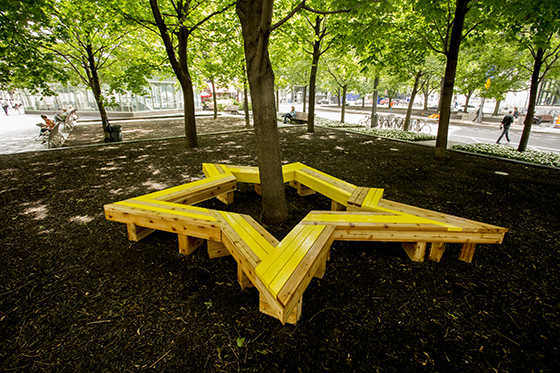 KA-POW!
The word KA-POW! speaks the language of action, force, movement, breath and sound. KA-POW! is comprised of two seated bench areas fixed amongst a grove of trees at Victoria Square park. Referencing lightening bolts, geometric star blanket patterns and cartoon action text bubbles the benches are a radical act of unity to bring more integration between public spaces and the more than human natural world. The geometric forms are anchored in many levels of meaning at ground level, supporting the public under a canopy of leaves. For this site specific commission Brooklyn based performance artist Maria Hupfield centers trees as dynamic living forces in an effort to bring people together with our relations a busy intersection. KA-POW! is part of le Sentier de résilience curated by Cheryl Sim in collaboration with Phi Centre and DHC/ART. It is located at the heart of la Promenade Fleuve-Montagne.
Maria Hupfield
Hupfield activates her creations in live performance. She is interested in shared moments that open spaces for possibility and new narratives. She is deeply invested in intersectionality, indigenous feminisms, race, gender, and class. Hupfield is a member of the Anishinaabe Nation at Wasauksing First Nation, Ontario. Her recent traveling solo exhibition, The One Who Keeps On Giving, opened the thirtieth anniversary of the Power Plant Contemporary Art Gallery, Toronto. Hupfield is an alumna of the AIM program at the Bronx Museum and a Joan Mitchell Foundation recipient. Exhibitions include shows at the SITE Santa Fe Biennial, James Gallery, the BRIC Biennial, the Bronx Museum, Vox Populi, and Panoply Performance Laboratory. Hupfield was also a part of the group exhibition Beat Nation. Art, Hip Hop and Aboriginal Culture (2012-2014) presented at the Vancouver Art Gallery, Power Plant Contemporary Art Gallery and the Musée d'art contemporain de Montréal.