Opening reception on August 16th from 5pm to 7pm with the artist in attendance
At Galerie Hugues Charbonneau
With the kind collaboration Art45 gallery
By modifying algorithms and training scenarios, what will the network synthesize?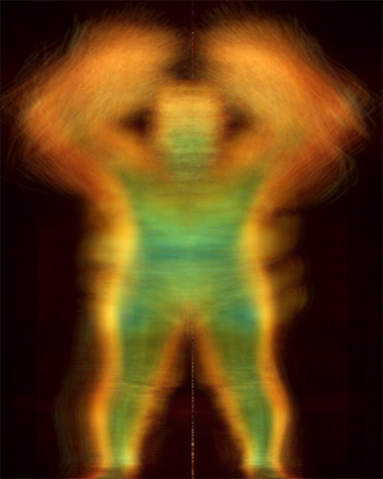 Using a state-of-the-art technique – a generative adversarial network (itself an interesting turn of phrase), a neural network has been trained to generate full body portraits that are learned from TSA three dimensional scans. The mongrel images created are not of specific persons but are 'hallucinated' by the network, through which the 'learning' process is revealed. The training dataset is from the very same scans made every time a person enters an airport terminal in the United States and several other countries. These images were released by the TSA to the public in the hope that they can develop an algorithm to automatically detect 'threats'.  On display here is the system as it learns to create images in an awkward loop of a machine being taught to imitate the images that are gathered from the biometric data.
Matthew Biederman
About Matthew Biederman
Matthew Biederman (b. 1972, Chicago Heights, IL, USA) lives and works in Montreal. He was the recipient of the Bay Area Artist Award in Video by New Langton Arts in 1999, First Place in the Visual Arts category of Slovenia's Break21 festival. He has since co-founded the Arctic Perspective Initiative, with Marko Peljhan, in 2007, a non-profit, international group of individuals and organizations, whose goal is to promote the creation of open authoring, communications and dissemination infrastructures for the circumpolar region.
Biederman works have been exhibited in the US, South America, Europe and Japan, in a variety of festivals and venues such as 7 ATA Festival Internacional (Lima), the 11th Lyon Bienniale, the 2011 Quebec Trienniale, 2014 Montreal Bienniale (Musee des Arts Contemporain), Bienniale of Digital Art (BIAN, Montreal), Artissima (Turin, IT) and Moscow Biennale, among others. As a film and video maker, his works have been included in the FILE festival (Sao Paulo), New Forms Festival (Vancouver), the Edinburgh Fringe Festival, Paris/Berlin International Meetings, and the Chicago Underground Film Festival. His public works have been shown at the ZeroOne2006 Festival (San Jose US), the SCAPE Biennial (New Zealand), notably.

Biederman is currently represented by Art45.