Vernissage on Septembre 5 from 5 to 7PM. Artist in attendance.
In the context of Momenta Biennially, the gallery is presenting two large digital photomontages made up of thousands of image fragments of crowds taken from all continents. Garnered from local and world news over several years, these photographic details were primarily captured during mass demonstrations with explicitly political motivations, but also during festivities, religious or sports events, or any other possible gathering.
The montages create a perspective illusion due to a gradual modification of the scale of the individuals depicted in them. A "crowd movement" effect is also apparent when all turn their gaze practically towards the same direction.
Nevertheless, despite these resemblances, the two depictions are quite different. Whereas the black and white one emphasizes the loss of individual singularities in the mass, the one in colour heightens the expressivity of the protesters.
The exhibition indirectly evokes the migrations and current tensions between various populations.
Masses / Particules
The crowds are treated like dynamic particle densities.
The assembled image parts do not highlight the individuals' facial expressions, as is usually the case in demonstration scenes. The gestures of the extrasare sublimated by their number. They do not brandish protest signs. They don't, or only barely express anger or joy. They are made even more anonymous by way of the image fragments that isolate segments of the undifferentiated masses. They are merged through their juxtapositions and discolorations, while the fragmentation process shatters the population into a swarm of apparently innumerable particles. We look on from a distance, as though we were looking at ants without understanding their organization.
The mass becomes a hallucinated texture, a random movement of dust, a weather mapping. Perhaps a celestial evocation. The image opens up other figurative possibilities, changing into an infinity of details from far to close.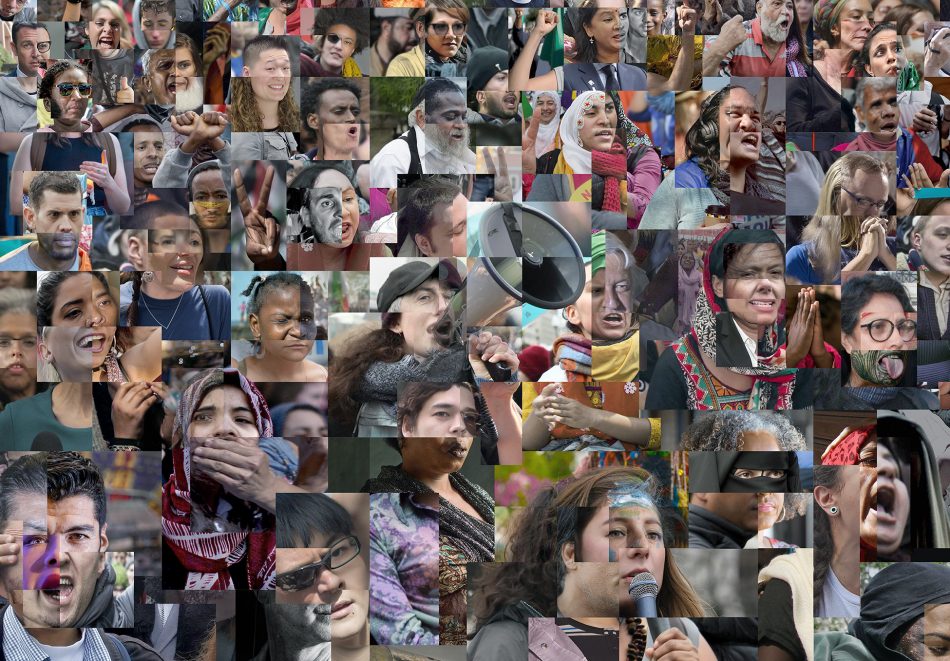 Grand Rassemblement (Vive la Sociale)
The cuts and connections between parts of heterogeneous images create a crowd of composite faces. We watch a "masquerade" of invented facial features.  At times grotesque and almost always dramatic. The citizens are filled with anger, in tears, full of laughter, giving hugs, in prayer and up in arms. We are not far from a drama of synthetic characters in an uprising fiction.
They coexist by way of an assemblage, grouped together for an unidentified "common cause." While several scream or speak through megaphones, the collage remains as much silent as it is chatty.  The protest placards and banners are off-frame. There is no text to inform us about what drives the people in this gathering.
The subtitle "Vive la Sociale" is a reference to a James Ensor painting from 1888, titled l'Entrée du Christ à Bruxelles, which is of comparable dimensions and in which a banner depicting this slogan is suspended over of a crowd comprised of rather clownish street characters.
A two part exhibition
The research undertaken during this project brought up a few ideas for photography and video works in which the focus is on signs—placards, hand signs, emblems and other languages—that are displayed during demonstrations. To be continued in another exhibition over the coming year.
Biography
Alain Paiement lives in Montréal. He is an artist and professor at Université du Québec à Montréal. His research has led him to work in several visual art forms, between painting, photography, sculpture and architectural installation, with methods inspired by the geographical sciences. His works have been regularly shown in several countries since the early 1980s. Among which, the exhibitions Amphithéâtres, at the Power Plant in Toronto in 1989, The Power of the City / the City of Power, at the Whitney Museum Downtown, New-York in 1992,  Mappemondes, at the Musée d'art Moderne de Liège in 1999 and Surfacing, at Tinglado 2, Tarragona (Spain) in 2004. More recently, the exhibitions Alice in Wonderland at Turku in Finland and at Cadizin Spain in 2011 and in 2012, Lost in landscape at Musée d'art moderne et contemporain de Trento (Italy) in 2015 and There all is order and beauty at Argos, Centre for art and media, in Brussels, in 2019. He received the prix Louis-Comtois in 2002 and was a Scotia Bank Photography Award finalist in 2012. He has created several works in public buildings and spaces in Montréal, such as Tessellations sans fin at Centre de recherche du CHUM in 2013 and Bleu de bleu, an installation on highway 20 in 2017.